Netgear ReadyNAS NV+ v2 Reviewed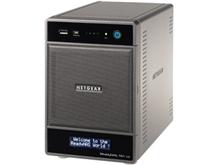 Before Windows Home Server came along, I used to drool over the ReadyNAS boxes. They were compact and ReadyNAS had already established themselves as being particularly friendly to plug-in development. That was before ReadyNAS got bought up by Netgear. Fortunately, it sounds like Netgear is continuing to support the development of a NAS device that combines professional performance with consumer pricing. It requires trading off features that might not be relevant to a home user without sacrificing the speed and performance that business buyers expect. The revamped web interface looks particularly interesting given that this was an aspect of the ReadyNAS boxes that has been knocked in the past.
The strength of the ReadyNAS lineup over competing NAS solutions is the wealth of user contributed add-ons that is available on the ReadyNAS support website. We will talk about the add-ons in detail in a later section. While SSH is not available readily, it is possible to enable it with a add-on.