Mimo Releases Magic Touch Line of Mini Touchscreen Monitors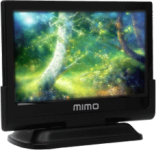 HTPC enthusiasts tend to put a lot of thought into how they are going to control their systems, whether it be with a remote control or a keyboard device. Personally, I've always wanted some sort of secondary screen specifically so that I can control music playback on the HTPC without turning on the big TV. I've tried hooking up extra monitors and played with a variety of iOS and Android remote screen apps, but what I've always found myself lusting after is a mini USB touchscreen monitor such as the ones made by Mimo. Mimo has launched their latest mini monitors, the Magic Touch and Magic Touch Deluxe. The Magic Touch is Mimo's first capacitive touchscreen monitor and will support multi-touch on Windows 7.
The panel itself offers a resolution of 1024 x 600 for keeping video chats out of your way, displaying email or monitoring social networks. The Deluxe version also adds a two-port USB hub but, if you plan to charge your devices through it, you'll have to hook up the optional AC adapter.