Pivos Aios HD Media Center Reviewed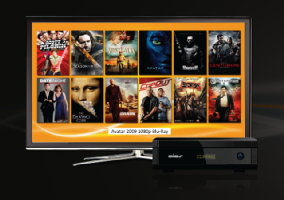 The Pivos Technology Group was a new on me, but evidently they are a new company out of California and the Aios HD Media Center is their first product. The Aios is a Realtek 1185-based media streamer, the same chipset used in the A.C. Ryan PlayOn!HD2. If you can look past the reviewer's unusual interpretation of what constitutes an HTPC, then NeoSeeker has a review of a media streamer that might be worth keeping an eye on. I'm not so sure about the orange theme of the user interface, but it does look reasonably straightforward.
The unit works as a networked media center which supports media playback from a USB storage device, Flash card reader (built in), networked PC or NAS resources. Since the unit doesn't actually come with any form of internal storage, all the media used on the device is reliant on the connected devices. This is the reason why the Aios has so many connectivity options that allow it to be hooked up to a host system. However, it does feature an internal 3.5″ SATA hot-swap bay from which the Aios can access up to 3TB worth of storage.