HP PL5060N Plasma HDTV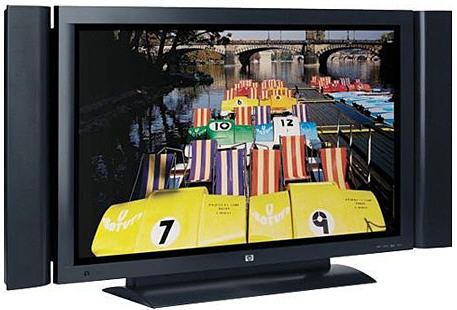 More and more major computer companies are trying to get into the lucrative display device market. HP, not will to be an exception, released a couple of DLP models back in 05. While the DLP models were feature rich, they were in very short supply and had many reported build problems. Fast forward to now, they are now concentrating on Plasmas and LCDs. This particular plasma seems pretty generic both in styling and the features it's offering, perhaps the cutting edge isn't where a newcomer should be in the TV market.
From the article:
Two other ways in which the HP, like most plasmas, will smoke most LCDs are motion lag and off-axis viewing. Its visible motion lag, a characteristic that is important on all types of program material but particularly so on games and sports, is practically non-existent. And even if you move off axis until you can just barely see the screen, the image remains bright, crisp, and colorful.
The HP does fall short of the best displays in a few areas. One control omitted from the PL5060N is an option to manually select either video or film deinterlacing mode. The set is left to its own devices to recognize film-based source and compensate for 3/2 pulldown. Most sets offer such an auto setting, and most of the time it's adequate. But when it isn't it's useful to have a manual option to force the set into one mode or the other.