Silverstone GD01 HTPC case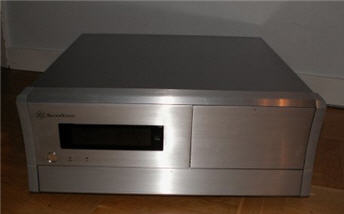 Over the last couple of years, there has been nice strides made in the looks and functionality of cases. Listening to the masses of HTPC enthusiasts, Silverstone started to develop cases with dual 80mm fans and other advances that helped keep our cases cool and quiet. This particular case is an offshoot of the old LC-03, which was one of the grand daddy's of the HTPC case family they have today.
From the review:

With a case you always get some accessories and this time we found a cd with software, manual, ATX adapter for LCD display, screws and a remote control as every HTPC should have.
With the remote control you are able to do pretty much the same thigns as with a mouse. You program
all the buttons for a specific action and with the arrow buttons in the
middle you move the mouse pointer around. The remote feels good in your
hand, even with batteries it's light weight and it's comfortable to use
as the buttons are made out of rubber and you dont have to push hard
for them to function.