M60v2 VaSSallo Finished Speakers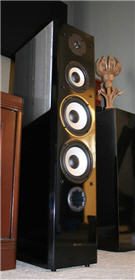 Once upon a time this naive news poster considered a 1000 dollar set of speaker higher end. Now that I have been posting news/researching potential speakers my perception of that has greatly changed. Not only because of the reviews I have posted here but because of some of the speakers I have listened to while researching on my own time. After spending a bit of time listening to more expensive setups, I at least have a glimpse of what a truly immersive setup can be like. I am not sure I have the golden ear to tell the subtle difference between speakers but I do know that I want to build a home theater that brings the movie to me.
Long intros aside, Audioholics has a set of professionaly finished Axiom M60's that are meant to sound good and look good. Depending on the finish you choose, you can expect to add upwards of $1,000 to the price tag. It sounds price, but in the scope of building a home theater, and having speakers that look good for a higher WAF, the price maybe worth it.
From the article:
Now anyone that has read one of my reviews knows that I'm a sucker for
this type of stuff. Fit and finish is one thing, performance is of
course all important, but if I have to dig my new equipment out of a
box of styrofoam peanuts, I'm going to think you skimped and that
perhaps I overpaid. Axiom makes sure that when you get their premium finishes, you know that
they take it as seriously as you. You can more than double the cost of
one of their speakers with these upgrades so I feel it is appropriate
that the appropriate level of attention to detail is taken. But the
REAL icing on the cake was the label on the box and the back of the
speakers… "Custom Built for Tom Andry." Oh yeah, that's something you show your friends!