VIA intros Mini-ITX mobo for the living room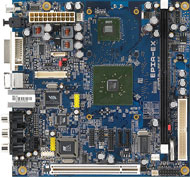 Via's making a name for themselves building super low wattage motherboard/cpu combinations to be used anywhere you'd like, so your home theater would be a great fit since: low wattage = low heat = low noise, which everyone knows increases WAF.
Barely wider than a DIMM, the VIA EPIA EX
features an embedded C7 processor and VIA's latest chipset with
integrated graphics, the CX700M2 "system media processor." This chipset
allows the EPIA EX to support a nice range of high-resolution output
formats, including HD Audio and HDTV display resolutions of 720p and
1080i, along with hardware-accelerated decoding of MPEG2, MPEG4, and
WMV9 video. The board sports an array of appropriate output ports,
including DVI, S-Video, composite and component video, and both coaxial
and optical digital audio.
Read the rest here.