Belkin's Cable-Free USB Hub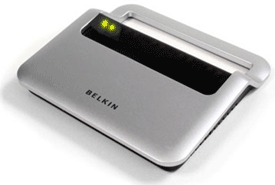 I'm really not sure the demand for this type of device, but I'm not surprised to hear that it has speed issues over wireless. Plus, are you really going to trust your backup USB hard drive to backup all your files without a hitch through this? How patient are you going to be just to have this wireless? Oh, yeah, and it's friggin $200!!!!
File transfer using the Cable-Free USB Hub was
significantly slower than copying files with the memory card reader
connected directly to the computer. The last line of the chart shows
the Cable-Free throughput as a percentage of the directly connected
throughput. Even taking the best results, the Cable-Free hub performed
only at 1/5 the speed of the wired transfers. My test files for the SD
card consisted of 1GB of video files I shot on my Canon SD550.
Transferring these files from the card to my computer took 1 minute 49
seconds. The same files took 10:56 using the Cable-Free Hub.
Read the rest here.