TiVo Series3 HD Digital Media Recorder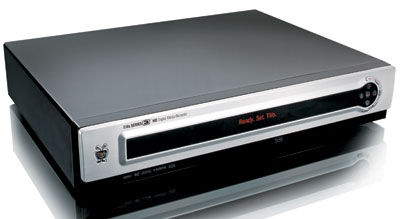 Sound And Vision has a relatively unknown company's product on their
test bench. Oddly named "TiVo", with a capital V, it sports quite a few
features that may make this HD DVR a front runner in the PVR race.
From the article:
The TiVo Series3 HD Digital Media Recorder
contains slots for two CableCARDs, which you can lease from your cable
company for about $1.75 each per month (at least in my area). Each card
decrypts all the digital channels you subscribe to, including premium
channels, though you'd still need a separate tuner from your cable
company to access video-on-demand.
The Series3 is the most capable and attractive DVR yet. With six
tuners (two analog, for conventional terrestrial stations or analog
cable channels; two ATSC, for terrestrial DTV; and two digital cable),
the Series3 is compatible with everything except satellite. The OLED
display on its front shows the names of programs being recorded, and
the 36-button remote is completely backlit. This is also the first DVR
to be certified by THX, an assurance program for audio and video
quality.