The Importance of Backups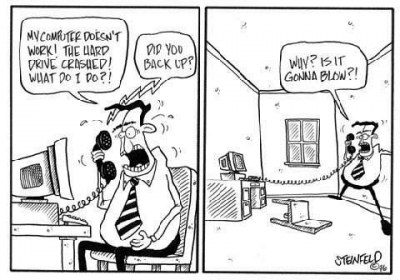 I recently had the opportunity to utilize my extensive (though, not bullet proof) backup regimen and it managed to save my bacon in a fairly substantial way. While this certainly is not isolated to HTPCs, I thought it might be a good idea to remind people of the importance of regular, reliable backups.
As everyone surely knows by now, SageTV was purchased by Google. Those who are running it have been guaranteed a year of guide data and alternatives have already been developed to continue receiving guide data beyond that. However, there is no way to purchase additional hardware (i.e. HD300s) or licenses.
Can you see where this is going? Click the "Read more" link to come along for the ride…

I recently started looking into virtualizing my server and move away from Windows Home Server entirely. To that end, I installed VMware's vSphere Hypervisor (free) on a new SSD for testing the feasibility of my plans. Installing vSphere and then Windows XP was pretty straightforward, but then I moved on to installing SageTV.
After installation, I was greeted by the "21 day trial" message. No problem, I thought, I'll enter my V7 license and be off. No go. The V7 license key is an upgrade, which requires a full version key to be entered first. Easy enough to rectify, since I keep a list of all my licenses on my WHS box and copied it to my client PC for easy access while working on the server… or so I thought. I apparently never copied my V6 license for the SageTV server to my license list. Now, I'm off to attempt to search my emails online for the receipt when I purchased it several years ago. Nothing is showing up from SageTV or PCAlchemy. The weekend is pretty much over and I decide to wait a couple of days to continue my search.
Yesterday, I remembered that my old PC, whose C: drive failed sometime last year and I never got around to fixing, stored all my older emails in Thunderbird. I took the PC apart and pulled the C: drive and then remembered that's what actually failed… after I hooked it up to the client PC, of course. Then the lightbulb went off (on?) and I remembered that I run that little OS called Windows Home Server, which backs up all the computers and files of your choosing. Thankfully, even after 467 days since my last backup of the old PC, I never did go in and delete the backups WHS had created for that old PC. I did consider it many, many times over the last year, but I kept thinking I might need something off of the backups one day.
After about an hour of searching through the Thunderbird text email files (thankfully, stored simply as plain text) for SageTV, PCAlchemy, License, Receipt, etc., I remembered that I won that license here on Missing Remote. That means even SageTV wouldn't be able to recover my license and, since I can't purchase another one, my SageTV setup would be completely useless. (Note: The same goes for anyone who purchased a SageTV license from PCAlchemy. If you lose it, SageTV cannot retrieve your license info.)
So, I started searching for Missing Remote, missingremote, garcen, etc. It turns out that this was all the way back when Alan Cooke still ran the site and I finally found his PM to me back in May 2007. While I realize that keeping a tighter reign on my licenses would have made this infinitely easier, a system of redundant backups of multiple aspects of my computers absolutely saved my butt here. Considering the repercussions of actually losing SageTV, this really drove home the importance of keeping my backups up to date and in a safe place. While I don't yet have offsite backups, those are definitely in my plans for extremely critical data.
Picture this, but think "backups" instead. This video just never gets old…