Is Bit streaming more efficient than LPCM?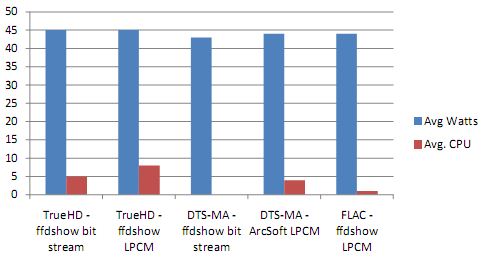 The recent update to the Haali Media Splitter (enabling Dolby TrueHD in DTS-MA MKV) got me thinking about revisiting our guide to getting lossless audio off the PC.  When an interesting discussion got started about the benefits of bit streaming v. LPCM over at AVS Forum it was time to do some testing.
To setup the test I muxed TrueHD, DTS-MA and FLAC (converted from the TrueHD track using eac3to) tracks into separate mka files and played them back in GraphStudio using ffdshow for bit streaming TrueHD/DTS-MA and decoding TrueHD/FLAC and the ArcSoft Audio Decoder to decode the DTS-MA track (ffdshow can't decode DTS-MA yet) while tracking power usage and CPU utilization.  Check out the results below.
To be honest the results were somewhat surprising.  I had expected bit streaming to always be the most efficient way to push audio off the PC.  While we can see that it is marginally more efficient than real-time decoding TrueHD and DTS-MA during playback, at least when it comes to ffdshow and TrueHD converting to FLAC before muxing the MKV is the better option for CPU performance.
Given the numbers achieved bit streaming BD using PowerDVD and Total Media Theater on the platform (0-5%) and what ffdshow is capable of with DTS-MA I expect that there is some room for improvement, so we will have to revisit this topic again.