SVS SB-4000 13.5″ 1200W Sealed Box Subwoofer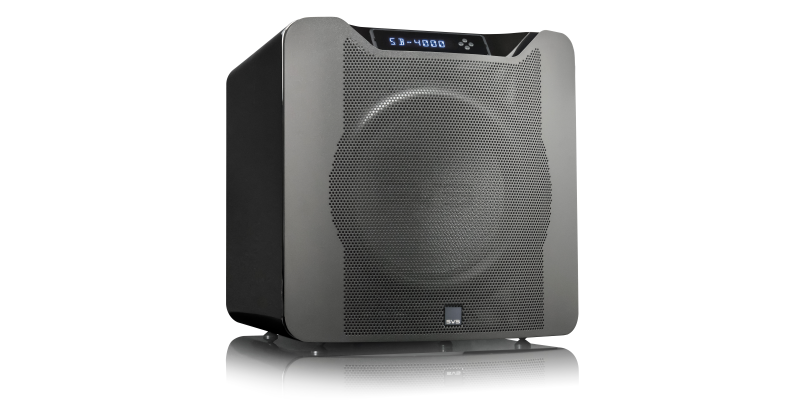 SVS unveiled the SB-4000, PB-4000, and PC-4000 4000 series subwoofers back in November. These reference quality subs replace their popular 13-Ultra series, with a level of change which is quite dramatic from the previous generation. Alterations were made to the cabinet and 13.5" driver, but the electronics received the most benefit with the introduction of a 50MHz Analog Devices Audio DSP with 56-bit filtering, discrete MOSFETs, and 1200 watt "Sledge STA-1200D" amplifier. Each of the models offer a different implementation of these fundamental elements with a sealed (SB), ported (PB), and ported cylinder (PC) option available. Which one you choose will depend on preference, and available space – these subwoofers are massive. Sealed subs tend to have a cleaner and more balanced sound than their ported counterparts, which provide a throatier BOOM. Coupled with a smaller footprint, this often makes them a better choice for most mixed use environments. So when offered the chance to review one of the new units, I opted for the SB-4000.
Device
Expectedly, the box is large and very heavy – 117.8lb (53.45kg) to be exact. So, some planning is required when you know the SVS SB-4000 is going to be delivered. Arrange to have a friend or family member stop by to help move it to wherever it will sit; your back will thank you, trust me. Also, as much as it pains me to say this, follow the unpacking instructions. It will save the box for later use, and stop you from punching through the cone as you push the 102.3lb (46.4kg) subwoofer out of the box. It is obvious that SVS put a lot of thought into the packaging. It protects the contents perfectly (should FedEx decide that rolling the box is the best way to get it up the front porch stairs), and because there is cardboard encasing the foam shock absorber on the bottom making it easier to slide the SB-4000 most of the way into place.
I cannot remember when I first fell in love with the look of piano gloss, but it has been a long affair (this even turned my head briefly). So naturally, it is the only finish for me. But if that's not your thing, you can save $100 by selecting black ash instead. This makes the SVS SB-4000 $1,500 compared to the $1,600 price tag for this beauty. As we can see from the photos, SVS did not hold back on black, or the gloss. Gorgeous.
It isn't all looks either. Beneath the shiny exterior is a double width MDF cabinet with plenty of internal bracing. Creating something which SVS calls an "acoustically inert environment" – which I assume means that the components inside that should not move, cannot. SVS refined the 13-Ultra's driver to produce the most visible, and at 43lb (19.5kg) weighty, component housed in the 18.3" (465mm) H X 17.8" (453mm) W X 18.6" (471.3mm) D enclosure — which does not even include the 2.3" (58.42mm) grill. But I think the more interesting changes come from the components which heavily leverage the step-up 16-Ultra's engineering; like the 1200W RMS (4000W peak) amplifier, 50MHz Analog Devices Audio DSP with 56-bit filtering, high efficiency discrete MOSFETs, active PFC circuity (able to clean electricity in the 100-240V range), and a ground loop isolation circuit. All this produces an impressive package with a 19-310Hz +/-3 dB frequency response, and a maximum low frequency output of 126.8dB @ 32Hz 1/8 space 1m.
Use
The SVS SB-4000 can be managed via infrared (IR) with the supplied remote control, or via Bluetooth using the Android/iOS application SVS provides. All of the settings and functions are available using the remote, but it is exponentially easier to install the SVS app on a mobile device and use that instead. Along with the important settings (e.g. power configuration, display status, etc.), the app also includes a detailed explanation of the available DSP settings. How much configuration is required will depend directly on your environment and the other equipment installed. Because of the placement of the SB-4000, room shape, and that it was connected to a Denon AVR-X4300H, room correction was delegated to Audyssey's MultEQ XT32.
Broader integration with a home automation system, or universal remote control is unfortunately limited to IR. So if you have a Harmony, or similar device, with line-of-site (LOS) to the SB-4000 control is as simple as adding it as a device. Given the price and capability of the 4000 series subwoofer, I would prefer to find IP control either in addition to, or instead of Bluetooth. It widens the integration potential immensely, because anything on the same network can potentially interact with the device without the need for an app. It would make it possible to change presets (e.g. movie configuration v. music) from a home automation controller (HAC) in a simpler, less fragile way. For the SB-4000, this is more 'nice-to-have', as I did not find myself switching between the presets enough where automation was required. However, on one of the ported models I suspect that it would be more frequent and content specific, and therefore critical.
SVS claims 0.5W of standby power consumption for the 4000 series. According my meter, it was more like 0.3W. This number is the same whether the SB-4000's wake mode is "Auto" or "Triggered" and it is important to note that it includes the Bluetooth radio. So, it is possible to turn on the subwoofer via the mobile application if you want to. When idle, power consumption is a reasonable 22-23W, and even while "working" the SB-4000 spend most of its time in the 25-30W range. Obviously, this varies with bass demand, so your mileage will depend on what you feed it. The highest number achieved here was 68.9W, thanks to AWOLNATION Sail @ 0dB.
I was surprised to discover that the "most improved" grade went to music in my ~245 sq/ft media room. Response is instantaneous, tight, and controlled but never over powering. Even as the volume goes up, the SB-4000 stays "hidden", meshing seamlessly with the front towers. Whatever your taste, where there is bass, there is benefit. The same qualities that surface for music, are also apparent for video content. Bass reproduction is effortless, managed in a way that envelops the senses – and not just aurally. I could name several examples of this, but just choosing one, let's go right around the 1:58 mark in Blade Runner 2049.
Energy you can feel fills the room. The SB-4000 remains blended perfectly into the stage. The bass stays tight, extending the storyline, drawing you into the characters' experience. Which is exactly what a home theater component should do. Facilitate a more immersive experience. Where my 10" subwoofer starts to rolls off, muddying detail, the SB-4000 still has massive headroom. Impressing with its power, and nuance.
Conclusion
I generally try to stay away from directly recommending products in my reviews, preferring to just present the findings and let them stand on their own. I do not think that I can leave it there with the SVS SB-4000 sealed subwoofer. It looks great. The build quality is flawless. Most importantly the SB-4000 provides clean, tight bass, oodles of headroom, and musicality that impresses with every type of content. If you have the space and budget for a $1,500-$1,600 subwoofer it is worth taking SVS up on their 45 day trial. You won't be disappointed.
Pro:
Clean, tight bass for every type of content
Build quality
Power consumption
Looks great (piano gloss FTW)
Con:
No IP control
You will need to schedule a friend to help move it
Thanks to SVS for providing the SB 4000 review unit