Monsoon Vulkano Flow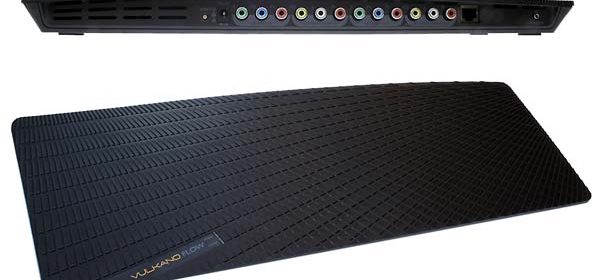 The idea of being able to take your content wherever you go is one that has taken off since the launch of Slingbox–which supports connecting your set top box to their specific device, and then being able to control and stream that signal to your computer (or phone or Boxee Box) from anywhere in the world. Monsoon Multimedia is aiming to provide some competition to that space with their introduction of the Vulkano line of products which offers the same core functionality of watching your TV from any location, along with some more advanced features. The Vulkano Flow is Monsoon Multimedia's base-line offering, which provides the same specifications as the others except with less storage.
SPECIFICATIONS
The Monsoon Multimedia Vulkano shares the same chipset across all three tiers of products–the Flow, Lava and Blast. The difference amongst them is the amount of storage each has. The Flow, which we have for review, contains zero storage, the Lava a 4GB memory card, and the Blast a 160GB. Pricing for each is $99, $199, and $249, respectively.
Here are the specs shared between them:
Hardware

●Processor: C2 Microsystem's CC1203 System On Chip (SOC) based platform

●System memory: 256MB DDR2 memory + 128MB NAND memory + 1MB EEPROM

A/V Inputs

●Composite: NTSC, PAL

●Component: 480i, 576i, 480p, 576p, 720p50/60, 1080i50/60

●Analog Stereo

●Note: The input signal video format is automatically detected

A/V Outputs

●Composite: NTSC, PAL (Same as input)

●Component: 480i, 576i, 480p, 576p, 720p50/60, 1080i50/60, 1080p50/60 (Same as input)

●Analog Stereo

●Note: These outputs are direct loop through from the inputs via splitters

Network Connectivity

●802.11n 2×2 MIMO, Single Band

●WiFi Protected Setup (WPS) for easy wireless network setup

●10/100/1000 Mbps Ethernet using standard Cat5e cable

User I/O Ports
●Standard USB2.0 host port. (Future use)
IR Blaster

●Used to remotely control the Audio-Video source device

●IR Remote learning capability for audio-video device not in the database

●Internal IR blaster capability without need to connect IR blaster cable, which works in most setups

●External IR blaster cable plug in for setup where internal blaster doesn't work

Power

●9V 2A wall adapter. 100V – 240V 50/60 Hz worldwide AC input (will need mechanical adapter socket for countries other than USA & Canada)

●Nominal power consumption: 14W
PACKAGING & HARDWARE
The Monsoon Multimedia Vulkano Flow arrives in a long cardboard box; two molded plastic shells hold the contents. Every component and cable is individually packaged and labeled, which is somewhat excessive but a nice step taken to ensure users do not confuse their cables. Inside the package are the following:
1. Monsoon Vulkano Flow
2. AC Power Adapter
3. Quickstart Guide
4. RJ-45 Ethernet Cable
5. IR Blaster Cable
6. Component Cable
7. Composite Cable
When we received the box, we knew the shape of the Vulkano Flow would be a bit unique, and we were not disappointed. The Flow itself is 16 inches wide, 5 inches deep and 1 inch tall–not your standard dimensions for any other AV component. Luckily the device doesn't require line of site, so if you have an area you can tuck it away to, it can still function without issue. The device is lighter than we expected, and we were pleased not to notice any moving fans active during usage. The outer material is a hard black plastic, and we noticed a few empty ports that were blocked off with electrical tape. Hopefully this is just a sign of some production changes, but given that the product has been out for a while, I assume this is the device's final state of appearance–although not having the most refined appearance is not necessarily a big deal given its visibility in an AV stack.
SETUP & USAGE
Connecting the Flow is very simple; by connecting your STB or other tuner directly into the Flow, you can then use the included cable to connect the output back to your television or receiver. For initial setup, an ethernet connection is required, but this can be temporary as the device does include support for WiFi, just not during the setup since there's no way of controlling the on screen display to enter your wireless security information.
Setting up the Monsoon Multimedia Vulkano Flow was a bit more complicated than you would hope, given the intimidating nature associated with "placeshifting" audio and video content. My initial Windows 7 Ultimate x86 laptop refused to function properly after installation. I'm still working out that bug with Monsoon technical support, but for the sake of this review I'll place some of the blame on the old installation of Windows 7. Testing it with my work laptop (same OS) yielded better luck and I was able to get up and running.
The setup process asks some common questions you would imagine, such as automatically detecting the Flow on your network and then offering you the ability to connect it to your wireless network. Depending on the quality you are expecting and the bandwidth of your wireless network, we would not recommend going wireless unless you have to, but in testing the performance, it was certainly acceptable (more on that later). Also during the setup is your Firewall configuration. Hopefully most of you are using a router with firewall, and so the Flow does attempt to automatically configure the firewall with necessary ports if uPnP is supported. If it does not, then the more traditional method of forwarding ports is necessary to get things working outside your home's internet wall.
Since my Windows 7 Media Center HTPC is using HDMI-out, that was not an option for use with the Vulkano Flow since it only contains pass-through for component or composite video. Fortunately, Media Center Extender in Xbox 360 still exists, so I used the component cables to connect that to the Flow.
The configuration option allows you to setup your IR code since it communicates with your set top box (STB), or in my case, the Xbox 360, via IR blasting. The Monsoon software also contains its own electronic program guide (EPG) so you are prompted to configure your zip code and cable provider during the process as well. The inclusion of an EPG is pretty useful as it allows you to avoid having to placeshift via your STB to tune to a particular channel or see what is on. The biggest issue I had during setup was that there was no true support for the XBox 360 remote control–the arrows, enter, and power buttons, along with a few others, are functional, but critical buttons such as back, menu, or the green button are all inactive, rendering it fairly useless if you are watching recorded television over the Flow. I would imagine most Flow customers will be using the device with a connected STB so those controls should all be supported, but.
Another option you have is to use any connected PC on your network to locally store the recorded TV content from the Flow via MP4 file format. This is a nice benefit if you know you will be traveling with long periods of not having internet access.
An obvious point, but one I should call out, regards the Windows Media Center HTPC user. Unless you have a video output from your system in component or composite video, it's not going to be possible. Hopefully future versions of the device will include an HDMI port, but given the restrictions with HDMI pass-through, I'm not sure of its feasibility.
PERFORMANCE
There is no website-type of entry to access your television content as all of the media is accessible through the required Monsoon PC Player (or comparable for your system)–there is currently PC, Mac, iOS, Android, and Blackberry players supported. The connection to the Vulkano Flow is done so via the mandatory software with a unique username and password (no web based option is available), which made life very easy since you don't have to remember your home IP address or deal with remembering another webpage address.
In an effort to test the playback capabilities, we used a number of high definition videos and regular audio files to play from the Xbox 360's Media Center Extender (MCX) interface to the flow. In realtime we noticed a lag of 7 seconds from the moment a button was pressed before it appeared on the screen. This was a concern, but one that was quickly quelled as we began to test the streaming capabilities. During playback testing, the Flow maintained audio and video synchronization with no lip sync issues. This was during high definition 1080i resolution recorded Windows WTV file playback. The one thing that we did notice was that the auto-adjusting bitrate would fluctuate during playback for no known reason. If quality is a must, then the ability to adjust the bitrate in the settings is a welcome addition and one that works well, but for slower connections it does require more time to buffer the content.
There is a virtual remote control which allows you to navigate through your STB's menu options and to tune channels, and the IR blasting worked as reliably as we've come to expect–as long as the line of site is not interrupted, it's reliable.
Power usage was something we monitored carefully since the device is designed to be run full-time, 24/7. The Monsoon Multimedia Vulkano Flow drew approximately 7.8 watts of power in idle, and peaked at 9 watts during media playback. Both are acceptable numbers, but a lower power standby option would have been appreciated.
An obvious but critical note: the Monsoon Multimedia Flow uses passthrough technology to transmit the signal of the TV, so a remote and local person will be forced to watch the same content, unless you are using a STB with two tuners–some caveats but it is possible.
There is also an option to stream content to your mobile device via the Monsoon Vulkano app in the iTunes App Store, at a cost of $12.99. The software is not included in the purchase of the $99 Flow (nor in any of the higher end models), but provides a nice option for users who would find themselves needing to stream their content to an iPhone or iPad instead of their laptops.
CONCLUSION
If you had mentioned placeshifting–streaming video content from your home through an internet connection–before Slingbox came into the market, you would have confused your audience. Just as TiVo defined digital video recording, so too has Slingbox defined placeshifting technology. What Monsoon Multimedia has done with their new Flow line of products is provide a more than viable competitor which offers a solid platform and quality performance. The buffering and auto bitrate resolution worked surprisingly well, and at no point did we notice any lip sync issues.
However, things were not all perfect; my initial setup experience on my laptop was frustrating, and then of course there was the issue of not having true Xbox 360 remote support which made testing that much more difficult. Most set top boxes do still contain component (YCbCr) video, but the threat of closing the analog hole is one where we wish somebody would solve the HDMI pass-through lacking in so many devices. Hopefully that can happen through more demand and investment, so we can utilize our Media Center device instead.
Given the target audience is for set top users (as long as you are aware of its limitations), the actual performance of the unit is fantastic, and for the frequent traveler it really is a must in order to stay caught up on all your programming.
PROS:
Automatic bitrate adjustments for quality vs bandwidth
Player software with easy login
Great video sync playback
Allows for local video recording–higherend models include built-in storage
CONS:
iOS/Android app costs $12.99 extra
Oddly shaped device strange fit in AV stack
No HDMI input/output
Limited Xbox 360 support
Thanks to Monsoon Multimedia for providing the review unit sample.