Logitech diNovo Keyboard

Logitech diNovo Keyboard

For as long as I can remember, Logitech has made their mark on the tech industry by making common computer/entertainment devices into fashion statements. Nobody needs 20" spinners on their SUV, and nobody needs a super thin keyboard…but people still WANT them. The diNovo Edge keyboard is no exception to this. Ever since I first saw it, I wanted one, it just oozed sexy, but is it really, truly worth $200?

Let's find out.
Specifications
The Logitech diNovo Edge keyboard is not just a keyboard, but a keyboard/touchpad combination, which seems ideal in a world of HTPCs where you'd want to be able to type & function with your PC from across the living room. I'll be covering the basics of keyboard usage, but also the use of this keyboard from your sofa or bed, to see how it holds up to the HTPC test.
So here's the description & requirements according to Logitech:
Product Description
The ultra-slim Logitech diNovo Edge keyboard for Windows PC delivers the ultimate in feel and response. The revolutionary TouchDisc with hyper-speed scrolling and pixel-perfect control makes trackpads obsolete. The slim recharging base doubles as a keyboard stand. Work longer thanks to the longer-lasting Li-Ion batteries and more securely via Bluetooth wireless technology. A precision micro-scissors mechanism distributes typing force evenly across key surfaces, making every stroke natural and fluid. Stylishly sleek Laser-cut from a single piece of Plexiglass and set in a brushed aluminum frame, the diNovo Edge makes a bold statement. Full-sized standard 18 x 18 mm keys, 3.2 mm key travel, 60g activation force 10M keystroke supported per key Scissor switch technology Plexiglas panel with brushed aluminum palm rest 38 mm circular Touchpad with horizontal and vertical scrolling Acceleration settings goes from None to 10 times the scrolling speed 17 one-touch access controls with instant backlit feedback 57 mm touch sensitive volume slider with instant backlit feedback Built-in rechargeable 950 mAh lithium ion battery Fast-charge time – About 5 min for approx. one day usage Full-charge time – About 2 hours for up to 2 months usage System Requirements – IBM or Compatible PC, Windows XP (SP2) or Windows Vista (all editions), Available USB port, CD-ROM Drive Dimensions (HxWxD) – 0.43 x 16.14 x 8.27 inches ( 11 x 410 x 210 mm ) Weight – 940 grams
System Requirements
IBM or Compatible PC
Windows XP (SP2) or Windows Vista (all editions)
Available USB port
CD-ROM Drive
And here are some details on the keyboard hardware itself.
Hardware
Keyframe
Full-sized standard 18 X 18 mm keys, 3.2 mm key travel, 60g activation force
10M keystroke supported per key
Scissor switch technology
Plexiglas panel with brushed aluminum palm rest
Enhanced Controls
38 mm circular touchpad with horizontal and vertical scrolling
Acceleration settings goes from None to 10 times the scrolling speed
TouchDisk can be disabled with FN + Left Click on the keyboard
17 one-touch access controls with instant backlit feedback
57 mm touch sensitive volume slider with instant backlit feedback
Connectivity
Bluetooth Wireless Technology, version 2.0
Supports Widcomm 5.1 Bluetooth stack (Definitely misleading!)
Power and Battery
Built-in rechargeable 950 mA lithium ion battery
Fast-charge time: About 5 min for approx. one day usage
Full-charge time: About 2 hours for up to 2 months usage
Dimensions and Weight
11 mm (H) X 410 mm (W) X 210 mm (D)
940 grams
Package Contents
Logitech diNovo Edge Keyboard
Charging base
AC power cord
USB mini-receiver
Installation CD, includes:

Logitech SetPoint version 3.10
Comfort guidelines
Help center

User's guide
3-year limited warranty
And here's the system I'll be testing on:
Motherboard: ASUS A8N-SLI Premium

CPU: AMD X2 4600+ CPU

Memory: 2gb (2 x 1GB) DDR Memory

Video: Nvidia Geforce 7600GS PCI Express Graphics Card

Tuner: 2 x Hauppauge PVR-500MCE Dual Tuner TV Card

Audio: On-Board NForce Audio

Case: Antec P180 Black

Power Supply: Antec Phantom 500

Hard Drives: 80gb Seagate SATA for OS, 2 x 400gb Seagate SATA for Recordings

OS: Microsoft Windows Media Center 2005 (then switched to Windows Vista Ultimate x86)
So enough with the specs, ONTO THE PICTURES!! 😀
Unwrapping
I must say I was excited when the Logitech box arrived at my door, smaller than most keyboard boxes I've ever purchased. I had read other reviews of this keyboard, and heck, since I first dove into the HTPC world (around 6 years ago) I've tried dozens of all-in-one keyboards & couldn't find one to my liking.
| | |
| --- | --- |
| | |
| Loved seeing this at my doorstep, let me tell ya. The box in general was much smaller than any keyboard box I've ever gotten, and pretty light. | The box came with a protective sleeve as well as a glossy brochure for all the other Logitech products. The glossy box just makes this feel like such a high class piece. |
| | |
| --- | --- |
| | |
| Opening the box everything's organized. | And here are all the contents (from top, clockwise): diNovo Keyboard, Power cord, Bluetooth USB Adapter, Manual/CD & the Docking station. |
| | |
| --- | --- |
| | |
| Within the manuals/CD packet (top left, clockwise): Envelope, SetPoint install CD, Installation manual, cleaning cloth & advertisement sheet for Logitech mouse. | Here's a close up look of the docking station. |
Installation
The software installation of the SetPoint software was very straightforward. Logitech makes every step crystal clear which should lower their number of support calls. I'm not going to go step by step, but I have included screencaps of the entire installation in case anyone's curious. Keep in mind, for Windows Vista, I did not even need to install the software to be able to fully utilize the keyboard, but without the software you can't configure the programmable buttons. Logitech says they are working on a Vista version of their software that should be out soon.
The installation didn't take long at all, but it did require a restart which I'm not a big fan of–especially for a keyboard. But no big deal, when it rebooted it automatically updated itself.
Moral of the story: Throw the install CD out & always just download the latest online. It will save you time in the long run.
The main reason to install the SetPoint software is for all the customizable features the keyboard has. Without any software the keyboard will work just fine (even in the BIOS), so you're installing the software for the below features which allow you to tweak it to your liking.
The customizations available are very nice, and actually pretty important. It should be noted, that I was pretty frustrated with the touchpad until I went to the config settings & tweaked it's speed a bit, so it's definitely something you'll want to play around with.
The software is very straightforward to use, as you would expect from a company as established as Logitech.

Here's an interesting note which I'm not sure what to attribute to. When I first installed the keyboard in XP, the touchpad was painful to use, it just didn't work well at all. After configuring the software, it got MUCH better. Well, when I boot into Windows Vista, which does NOT have the SetPoint software installed, the keyboard works excellent as well. So I'm wondering if maybe the keyboard just has an adjustment period to wear itself in? Not sure, curious to hear other owners on this.
Using the Keyboard
As I've alluded to earlier, in the beginning, the touchpad was a painful item to use. Keep in mind, I use a laptop for work, so use a touchpad for over 50% of the time I'm on a computer, so I know how to use one. But it was just very non-responsive, wouldn't move when I wanted it to, and was just a generally frustrating experience.
Configuring the software helped, and now it's much more usable. Note I say usable, and not perfect. I still can't go very long using just the touchpad before wanting to commit a crime. I'm not sure why Logitech couldn't design a better touchpad, considering this "revolutionary" feature has been on laptops for a long time & works much better.
In fairness to Logitech, as much as it confuses me, I just don't think they designed this keyboard/touchpad combo to be a full replacement for your separate cordless mouse. What supports my theory, is the advertisement flyer that came with the manual, which said something to the affect of, Buy this Logitech cordless mouse, the perfect compliment to the diNovo Edge keyboard. If they felt so strong about that, I would have preferred they just not include the touchpad at all.
As for the keyboard itself, people will either love it or hate it. If you're like me & type on a laptop keyboard everyday, for 8 hours a day, then this feels right at home. Logitech have said themselves in their forums that the keyboard design was based off of laptop keyboards, and you can tell. But I'd imagine people who use a full size or ergonomic keyboard will not be too pleased.
One annoyance as far as the size of the keyboard, is that the the wrist support is attached to the keyboard itself, so it cannot be removed. Not a huge deal because it really does look great, but if I'm supposed to have this by my sofa, I kinda wanted it to have a smaller footprint. And that's the frustrating thing, as thin as it is, it could be even more narrow had they not included so much.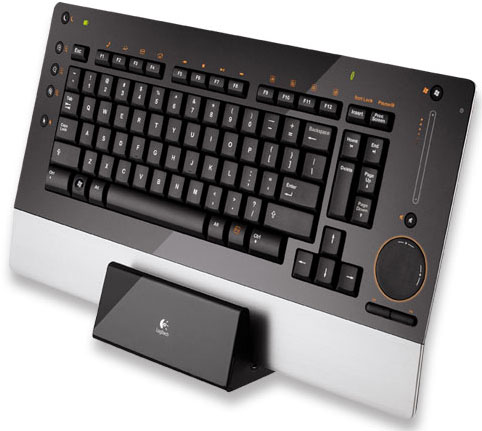 On the left hand side, there are some odd buttons, such as the zoom in & out. I'm really not sure how many people use this on a regular basis, but you don't get a choice. I would have preferred to not have them & have a smaller keyboard to move around, but hey, not my call. There's also a drag button & a sleep button, which will probably get more usage. Of course, everything illuminates when pressed.
On the opposite side, you have the Media Center button (which by default, launches Windows Media Player…damn Vista). Underneath that you have the Volume Slider. This is one of the more innovative features of the keyboard which I'm kind of in the middle whether I love it or hate it. The idea behind it, is you can just move your finger up or down it to adjust the volume. My issues with it, are that it doesn't show you the current volume level, so it's very easy to go too high or too low. Oh, and did I mention, if you're adjusting the volume within MCE, it will only skip volume levels in groupings, not 1 by 1? Annoying if you have some sensitive speakers where you only want to go down 1 volume level.
And underneath the volume we have the infamous touchpad. It's great for short usage, but I couldn't imagine having to only be able to use it. It's nice if you're browsing the web or documents, as the feature it has of being able to scroll up/down or left/right is pretty fast, albeit does take quite a bit of time to get adjusted to it.
There's more buttons than you know what to do with, but they all play together very nicely within Windows XP. Along the top are some preset types of buttons, like for IM or E-Mail, and then they've also included some programmable buttons that you can program to open whatever app you want. And then next to those are all your Media Center functions such as Play/FF/Rewind/Pause/Stop/Skip, that you find on your standard MCE remote. As you can see from the picture above, these buttons are hidden–meaning, that you need to use the Fn (function) key to illuminate these keys thus making them usable–otherwise, you're simply pushing the F-keys. And the real kicker about this, there's NO F-LOCK. Which means, unless you have huge hands, you'll need to use BOTH hands to be able to use any of those buttons. Very disappointing & frustrating.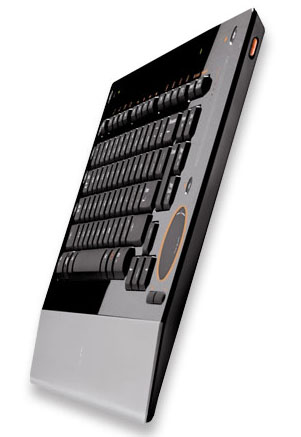 Hidden on the side is the power on/off switch. But seriously, the amount of battery life you save by turning it off is probably not worth your time to do it. But…it's a required feature to have, so I'm glad they hid it away from anyone's attention.
And that about does it for the features of this keyboard. Continue on to the conclusion to see if I think it's worth your $200.
Conclusion
I remember the days when my HTPC-ventures first began, 7 or 8 years ago, and I had a quest to find a keyboard with an integrated mouse that actually worked perfectly so I could relax from my sofa & do whatever I wanted to on my computer. I'm sad to say, 8 years later, there is still nothing perfect.
Does the Logitech diNovo Edge work? absolutely. Is it slick? Oh yeah. Will it impress the ladies? Of course. But is it worth $200? That's the tough call.
At first, I would have said absolutely no, but the more I use this keyboard, the more I fall in love with it. I should specify though, that after my initial "sofa tests" I've since switched it to my desk. I occasionally use the touchpad for web browsing or when my mouse is in it's cradle charging, and I've used the Media Center buttons more than anything, since I often leave my remote away from my desk but still like to watch shows within MCE.
I had no problems adjusting to the keyboard, but I use a laptop basically full-time at work. If you're used to something bigger, you might want to think twice about this. The keys on a laptop are different than a standard keyboard and definitely take some adjusting.
My main gripe–besides the touchpad–is the function keys. This keyboard was clearly designed at Media Center folks or other enthusiasts, who they must have known were going to use those special buttons more than the F-keys…so why not have the F-Keys hidden & the Media buttons pressable? Also, the keys only illuminate when you press the Fn key…so good luck having your wife or friend find that button in a dark room (the Fn key has an orange tint to it's lettering, so it's not even white which would make it easier to read in the dark). I wish they would have put it in the top somewhere on its own, not only so that you could then hit those buttons with just one hand, but also so that it would be easy to find without having to look to find it. If you want to read what other Logitech customers are saying, or Logitech's response to the lack of Fn-lock, check out this
forum thread
.
My last gripe I'll mention has to do with the bluetooth receiver. The keyboard is highly touted as being a bluetooth keyboard, and it comes with its own bluetooth USB adapter. Great news, right? Well, THIS FAQ kills the excitement really fast. While the keyboard will work with a bluetooth hub if you already own one, the USB adapter it comes with will NOT work with ANY other bluetooth device. I'm not sure how much more money this would have cost to incorporate, but I would have expected it out of a $200 device.
Before I finish up, let's go over the Pro's & Con's of the keyboard:
Pros:
Just drop dead sexy keyboard even your girlfriend/wife will want to use
Charger can be placed anywhere there's an outlet
Keyboard is amazingly thin & light
Works in BIOS before Windows loads
Dust cloth included
Long battery life (1 month usage for 2 hour charge)
Ding notification when Caps Lock is turned on
Cons:
Bluetooth adapter will only work with diNovo keyboard
Wrist support can't be removed (I don't care, but I know some will)
Cradle & keyboard pick up dust insanely easily
Touchpad is less than perfect
Volume slider in MCE usage only goes up/down by 5's
Reboot required after software installation
No Function Lock
Hefty Price tag for a keyboard: $199
So there you have it. I know the Cons seem to outnumber the Pros, but I just love this keyboard. The main thing owners need to understand are it's limitations. The touchpad clearly isn't intended for full-time use, so don't buy it thinking that it will. For occasional use, it works great, as does the rest of the keyboard. There's definitely an adjustment period to learn how it all works & figure out the easiest way to the buttons, but it's just a fantastic keyboard to own. It draws peoples' eyes like a magnet, and has been more than capable at any typing I've had to do.
My favorite feature is definitely the Media Center keys (which is why I'm so adamant about wanting an F-Lock). I use my main MCE on both my desk as well as outputting to a Television, so I love being able to skip past commercials on my 2nd display while still being able to type on my primary LCD display.
Many thanks to Logitech for providing this keyboard for review.
Feel free to discuss the product/review/anything in our forums, or let me know if you have any questions regarding the item & I'll do my best to answer fully.
Thanks for reading!