Sapphire Announces Brazos-Powered HD3 Nettop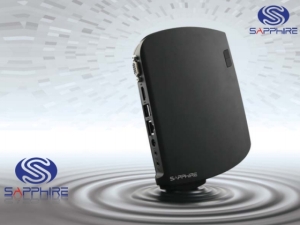 Sapphire has announced their newest nettop, the HD3. The Sapphire HD3 is powered by AMD's E-450 APU and Radeon HD 6320 graphics. This marks the HD3 as the first Sapphire HD nettop not based on the Intel Atom platform. The HD3 also ditches the optical drive, helping to make the unit small even by nettop standards. Sapphire does not target the HTPC market with the HD nettops, so there are no special niceties such as IR sensors or bundled remote control, but with its small footprint, HDMI output, and reasonably capable Brazos heart, the HD3 would probably make a fine extender-style HTPC or dedicated streamer. Sapphire usually sells the HD nettops in both a Windows version and a FreeDOS version for those interested in an alternative OS.
The HD3 is powered by AMD's E-450 APU with HD 6320 graphics. It packs up to 4GB of RAM and up to 500GB of storage, which is plenty in the nettop world. In terms of features, the HD3 is second to none. Like most AMD nettops, it comes with a couple of USB 3.0 ports, along with HDMI and the usual array of VGA, LAN, USB 2.0 connectors.