FireCore Releases aTV Flash (black) 1.3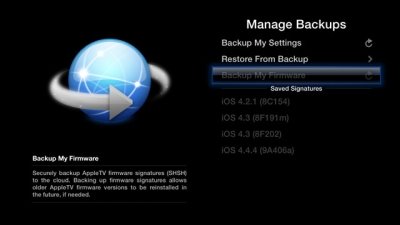 Those loving folks at FireCore have decided to jump the gun on Valentine's Day and share a little early love by releasing version 1.3 of aTV Flash (black). The update includes the usual array of bug fixes and performance improvements. There are new features, including support for folder based organization and several new languages. The big new feature will be an option to backup your firmware. The next version of Seas0nPass will integrate with this functionality to allow users to backup and restore to the firmware of their choosing. If it all works together properly, it will make upgrading to new firmwares safer by preserving the ability to revert to a previous firmware if things go awry or features break.
Firecore have released an update for aTVFlash, the addin for the 2nd gen Apple TV is now at version 1.3. This version adds a new firmware backup option, new translations and playback enhancements.