Apple Leads the Way as Consumer Electronics Spending Hits $144B in 2011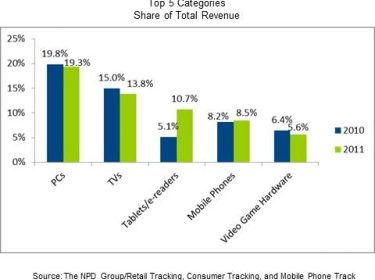 The holidays have come and gone, but if your wallet is still feeling a little light, there is a good chance it's because you were one of the folks splurging on consumer electronics last year. NPD has been busy crunching sales numbers and is reporting that consumer electronics sales generated $144B last year. This actually down 0.5% from 2010, and indeed, most of the categories that NPD tracked were down overall. The one category to post big gains was tablets/e-readers. It makes sense then that, of the top CE brands, the only company to post a sales increase was Apple. That's two years in a row for Apple, and judging by the hoopla surrounding the impending iPad3 announcement, the company seems well-positioned to go for the three-peat. Perhaps the most interesting numbers involve the retail channels. Few people would be surprised to hear that B&M stores are falling and online stores are rising, but to see Best Buy at the top of the chain and Amazon tied with Staples for fourth? How in the world is Staples holding its own against Amazon in consumer electronics sales?
Consumer electronics sales fell half a percent in 2011, generating $144 billion, NPD reports. Computers, televisions, tablets/e-readers, mobile phones and video game hardware commanded nearly 60% of those sales. Notebooks and desktops alone represented $28 billion (almost 20%), a decrease of 3% from 2010, while tablets/e-readers doubled sales to $15 billion last year, growing faster than any other category.