Western Digital Releases My Book Live Duo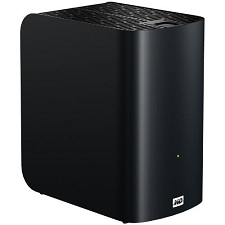 Western Digital had best be careful lest their My Book external drives become full on NAS systems. The new My Book Live Duo is Western Digital's latest network-capable My Book external hard drive, but this time WD is packing in some advanced features. There is some backup software and a DLNA server, though those are pretty much standard bullet points on networkable hard drives these days. More interestingly, there will be two models, a 4TB and a 6TB, each packing two drives in a RAID1 configuration for real-time data mirroring. The My Book Live Duo is also being touted as a cloud computing storage device as it supports remote access and mobile device access for iOS and Android, though I suspect that most consumers would be more impressed if cloud support meant that the drive backed itself up to the Internet.
Half the capacity is used to store users' data and half is used for a second copy. If one drive fails, all of your data is protected because everything is duplicated on the other drive. Alternatively, users can go wtih the Duo's spanning mode, which combines both drives into one large volume acting as one drive for maximum storage capacity.