Thecus N5500 5 Bay NAS Reviewed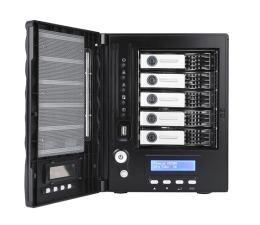 I know it's hard to get excited about multi-bay NAS devices these days with hard drive prices on the rise, but Thecus does try to make a compelling argument with their systems. We've been seeing more and more server-like capabilities being built into NAS devices over the last couple years, such as iTunes and DLNA media sharing, integrated backup and restore software services and built-in BitTorrent clients. The Thecus N550 continues that trend and seems to do so in style with a more attractive interface than we are used to seeing in NAS units. It is a little disappointing to hear that the fan is on the loud side, but that might not be a problem if it is going in a closet or back room. On the other hand, the drive bay caddies look capable and with support for up to 15TB of hard drive space in various RAID configurations, the N5500 might be a unit worth looking at if you are ready to add some network storage to your home network.
The N5500 has a load of features and options. It can be a print server, iTunes server, storage for IP security cameras, or even handle your BitTorrent work. On the data storage side of things the N5500 supports RAID modes 0, 1, 5, 6, 10, and JBOD. Most users would use RAID 5; it gives some data safety due to drive loss. If one drive dies the data is still safe. Once the bad drive is replaced the system automatically rebuilds itself.