Hitachi Takes 4TB Hard Drives to 7200rpm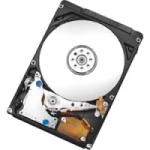 Hitachi was the first hard drive manufacturer to ship internal 4TB hard drives, but those early drives were also 5400rpm drives. While this no doubt suits the needs of most folks building home servers and general purpose media servers, it did leave more performance-oriented enthusiasts feeling a bit underwhelmed. Fortunately, Hitachi is mindful of that segment of the market's need for speed and has started shipping 7200rpm 4TB hard drives. Unfortunately, said drives are seemingly only available in Japan at this point, though I would assume that will change before too long. I was not surprised to hear that Hitachi is being conservative and sticking to their 5-platter design. We will almost certainly see another 5400rpm 4TB offering using 1TB platters before we see a 7200rpm offering do the same.
The latest Hitachi Deskstar 7K4000 drive (HDS724040ALE640) boasts 4TB capacity and uses five previous-generation 800GB platters with 446Gb/square inch areal density, Serial ATA-600 interface, 64MB cache as well as 7200rpm spindle speed. The new hard disk drives use advanced 4K format.