Boxee Pipes Live TV to Your Facebook Timeline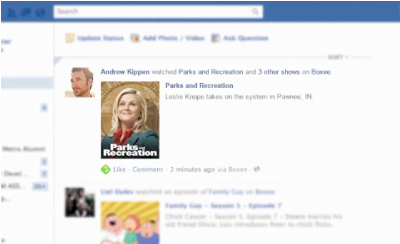 Boxee has announced a new Facebook app that will take advantage of the forthcoming Boxee Live TV add-on. The new app will be opt-in, but if enabled, the app posts the show you are watching on Live TV to your Facebook Timeline and feed. Fortunately, the app doesn't update until you have been viewing a program for two minutes, so our Timelines are safe from channel surfing spam. The information shared by the new Facebook Timeline app is also used by Boxee to populate the Live TV guide with information about what shows your friends are watching and for gathering aggregate statistics. The app is expected to launch later this month with the release of Boxee Live TV.
Boxee was built from the ground up to allow you to share with friends and receive video recommendations from them.  With a Boxee Box & Live TV there's nearly an infinite amount of video to watch.  To help you sift through it all, we're taking social one step further.