Vulkano Flow Gets Official in the Great White North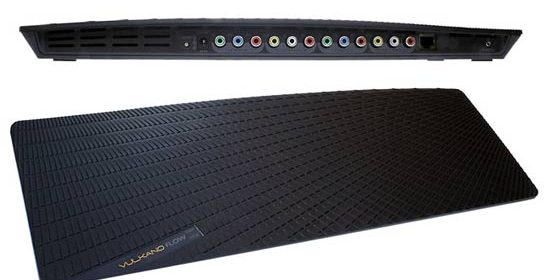 Winter in Canada. Mornings in the shack on the lake for ice fishing. Afternoons at the rink for a little curling. Home for Hockey Night. At least that's how I imagine it sitting here in the middle of the desert in the summer. And now it seems that I can also throw in a whole of lot television watching and Hockey Night on the go thanks to Vulkano.
We commented on the Vulkano Flow placeshifter when it first launched, and now comes word that the Flow is going wide in Canada. Keeping the $99 price tag, the Vulkano Flow is going to be available from Amazon, The Brick, and directly from Vulkano.
Summary of Vulkano Flow Features:

Place shift television programming and view on smartphones,

Android tablets, iPads, PCs and Macs
Pause, fast-forward or rewind live TV
Browse EPG for shows and episode descriptions
Record live TV streams directly onto mobile devices
Watch and control your live TV on the go via Wi-Fi or 3G
Connect to all major TV sources – cable, DVD, satellite, DVR, TiVo
Stream video at H.264 standards at rates as low as 150kbps
Connects wirelessly through Vulkano's on board .11n WiFi to

home router
TV content is passed from the set-top box's analog output

(component, composite) to Vulkano; using resolutions up to

1080i
Complete Press Release
Monsoon Multimedia Announces Vulkano Flow Availability in Canada

Canadian Television Lovers Can Now Enjoy Watching Their TV Anywhere, Anytime, on Any Mobile Device for only $99

SAN MATEO, CA – September 9, 2011 – Monsoon Multimedia, a leading provider of video convergence products, today announced the general availability of the Vulkano Flow mobile accessory for TV anywhere in Canada. When connected to any cable or satellite set-top box, the Vulkano Flow streams any TV channel a consumer receives to mobile devices, tablets and computers inside or outside of the home.

The Vulkano Flow has a simplified installation process and allows TV content viewing of any channel on iPhone, Android and BlackBerry smartphones and tablets, iPads, Macs, PCs and soon on Windows 7 devices. The Vulkano Flow is now available as a mobile accessory for $99 at The Brick, Amazon and other leading retailers or through www.myvulkano.com.

"According to analysts, 7.1 billion devices will be accessing the mobile network the by 2015 and over 50 percent of consumers note that enjoying video is one of their favorite mobile activities," said Colin Stiles, EVP of sales and marketing at Monsoon. "We are ecstatic to bring our Vulkano Flow to Canadian consumers, providing them with an affordable TV streaming accessory for their smartphones and tablets to watch any of their home television programming during their commute, while they are out of town or wherever they are regardless of their TV service provider."

After moving through the intuitive set-up process, Vulkano Flow owners can download Vulkano apps onto their devices fromwww.myvulkano.com or the respective device app stores. Users can then select channels from the integrated electronic programming guide (EPG) to watch and control their TV service through a wired Ethernet, Wi-Fi or 3G connection from anywhere in the world. Additionally, users streaming TV to their mobile devices, can initiate an on-the-fly record request, which enables the TV stream to be directly recorded onto the mobile device for viewing at a more convenient time. Software players for PCs/Macs, iPhone and iPad devices also come with Pause/Live functions to provide users with the option to fast-forward and rewind the content they are viewing.

Summary of Vulkano Flow Features:


Place shift television programming and view on smartphones, Android tablets, iPads, PCs and Macs
Pause, fast-forward or rewind live TV
Browse EPG for shows and episode descriptions
Record live TV streams directly onto mobile devices
Watch and control your live TV on the go via Wi-Fi or 3G
Connect to all major TV sources – cable, DVD, satellite, DVR, TiVo
Stream video at H.264 standards at rates as low as 150kbps
Connects wirelessly through Vulkano's on board .11n WiFi to home router
TV content is passed from the set-top box's analog output (component, composite) to Vulkano; using resolutions up to 1080i


Pricing and Availability
The Vulkano Flow is now available at www.myvulkano.com or from The Brick, Amazon, and other leading retailers and etailers for $99. The Flow comes with PC and Mac player, while iPad, iPhone, Android, BlackBerry, tablet and additional smartphone applications can be purchased for $12.99 each in the respective app stores.

About Monsoon Multimedia
Monsoon Multimedia provides advanced, standards-based multimedia products and convergence technologies for the PC, Mac, iPad, tablets and major smartphones. Founded by the founders of Dazzle and Emuzed, the company has offices in California, India, Russia and Singapore. For more information, please visit www.monsoonmultimedia.com.

For regular Vulkano updates follow us at www.Twitter.com/MyVulkano

Become a Fan on Facebook at http://www.facebook.com/MyVulkano