Unannounced Slingbox 350 and Slingbox 500 Pop Up at Best Buy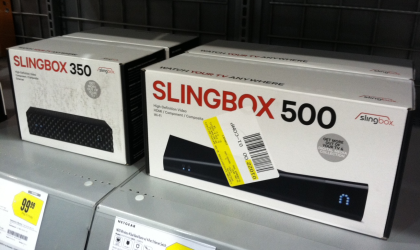 Who needs press releases when you have Best Buy? Over the weekend, AVS Forum member, ashoemaker, stumbled across the unannounced Logitech Harmony Touch remote control sitting on a shelf. The next day, Dave Zatz of Zatz not Funny cruises down to his local Best Buy in hopes of picking up one the unannounced Harmony remotes, and instead stumbles across a couple of unannounced Slingboxes, the Slingbox 350 and the Slingbox 500. Best Buy would not let him purchase either unit, which is unfortunate as there are few reviewers better qualified to run these new Slingboxes through their paces, but they did suggest he try again in mid-October. He was able to snap some pics and glean a few bits from scanning the boxes including 1080p streaming and integrated Wi-Fi. It also looks like the ATSC tuner is being dropped, which cord-cutters like myself will find disheartening, but hopefully it just didn't make the specs list on the box.
Whoa! I hit Best Buy looking for this unannounced Logitech Harmony Touch… but, instead, stumbled upon a pair of unannounced Slingboxes. To put these new products in perspective, the last significant retail Slingbox hardware refresh was announced four years ago — back when I was part of the team. And, frankly, I had worried that under Echostar's stewardship they'd abandon retail in favor of SlingLoaded cable and satellite solutions.