Thermaltake DH 202 Touch Chassis Reviewed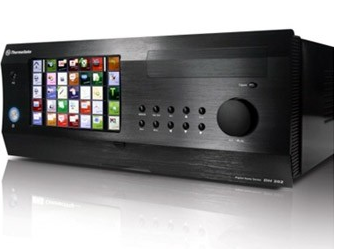 In this day and age, it seems that home theater PC (HTPC) chassis styles have more niches than ever with many preferring smaller, minimalist and understated looks without a display. Thermaltake's DH 202 Touch case wildly bucks that trend with a huge 7″ touch interface dominating the front of the very large chassis. If you're the type that can handle a monster such as the DH 202 Touch and it's matching price tag, check out the latest review of the enclosure.
Thermaltake are well known in the PC industry for their cases, PSUs and coolers but more recently they have branched out to eSports. Releasing a range of high end gaming gear for those looking to maximise their gaming potential. We looked at the Black Element mouse recently and found it to be a high quality product, especially impressive for the manufacturers first mouse in the enthusiast market.

Elsewhere in their product catalogue Thermaltake have continued to evolve their products and one of the latest released is the DH 202 Touch chassis. Designed for home theatre use the DH 202 Touch features some high class styling and combines it with a 7″ touch screen on the front panel. Today we take a look at that case in detail.