Channel Master Over-the-Air DVR STB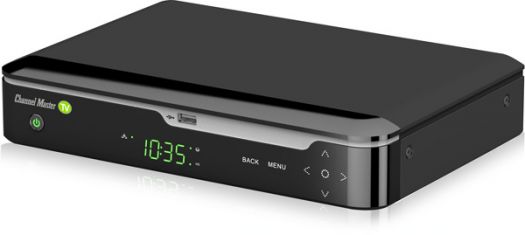 Admittedly, I was taken aback by this DVR from Channel Master. Offering anyone with an OTA antenna access to a–seemingly–full featured (depending on your definition, of course), dual-tuner DVR, this is an interesting device. While it may not be what many of our Missing Remote users are currently utilizing, it definitely offers people a fairly inexpensive entry into the field of DVRs, as well as an option for those looking to remove that monthly bill. Yes, even the EPG is free of monthly charges.
Special thanks to jennyfur for pointing this new device out! (Ed: Even if I didn't know that when I posted this.

)
…this solution does include basic DVR functionality, with none of the fees. And just because it's free, doesn't mean you'll only be able to save one show at a time. The Channel Master TV has a 320GB hard drive on board, meaning you can save about 35 hours of HD programming or up to 150 hours of the standard-def stuff. The dual on-board ATSC tuners allow you to record one channel while watching another, or record two programs on different channels and watch a third previously recorded show. You can schedule timer-based recordings through the on-screen Electronic Program Guide (EPG) with Picture in Guide and search the guide listings if you're looking for something specific.