Google TV 2.0 Coming to Logitech Revue This Summer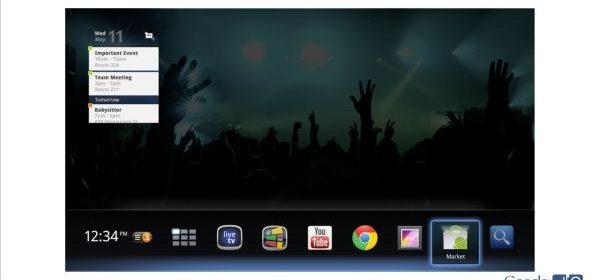 It looks like Google has somehow managed to convince Logitech to stay on board the Google TV train for at least one more go around. I think this is a good thing, as I would hate to see it go the way of WHS where all the major OEMs abandon it without giving it more time to develop. I'm not sure I'm convinced on the changes that have occurred, so we'll see.
Loaded in the device is what's known as Google TV 2.0 beta, the Android 3.1 based OS we've been waiting for, complete with apps. Unfortunately the only apps presently available are a Clock app and Live TV app, whose source is the HDMI input on the device. The interface retains Honeycomb's blue and black theme and shows plenty of effective optimizations for the big screen. Fishtank is supported by a private Groups message board, through which the main request from the 50 or so participants is the ability to overlay video with data from an application. This feature is apparently available while on the home screen, but not open for developers to use.