Logitech Illuminated Living-Room Keyboard K830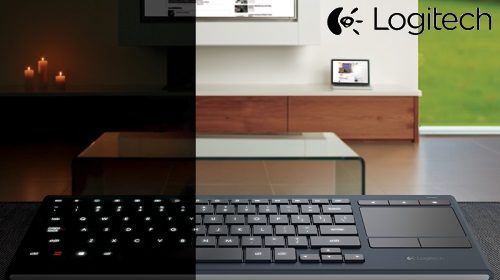 For home theater PC (HTPC) the value of a good wireless keyboard should go without saying. After all, despite its special role in the A/V stack a HTPC is still a PC – so text entry and pointer based navigation is an essential aspect of configuration, use, and maintenance. Also as over the top (OTT) content's search based consumption takes an ever-larger slice of our eyeball time, both on the HTPC and the myriad of increasingly complex streamer type devices, an attractive wireless keyboard that clearly looks like it belongs is an important "best tool for the job." The market for living room friendly wireless keyboards is relatively crowded, but too often product selection requires more compromise in functionality, features, range and style than is ideal. Logitech hopes to resolve that conflict with their newest Unifying enabled "Illuminated Living-Room Keyboard K830." The K830 specifications are impressive, including a back light, Windows 8 gesture support, 33' of range and a built in rechargeable battery–but the most obvious feature is the way it looks. The $99 (£89) Logitech K830 is relatively expensive in this segment; let's find out if it can deliver enough value to warrant its price tag.
Device
Before the Logitech K830 arrived, I must admit to some skepticism around the MSRP. The list of cheaper HTPC keyboards with similar functionality is long, and the price takes it well outside the "budget" category, so for it to make sense the entire experience needs to justify the sticker. In this case, I think Logitech did exactly that; including the initial presentation and unboxing experience. It would be odd to dwell too much on the packaging, but the care and quality with which the K830 was ensconced for delivery should be noted – I know that had it required cutting away one of those plastic finger slicers it would not have felt like a $100 keyboard should.
Logitech included both a micro USB charging cable and a standard USB extension cable for use with the Unifying dongle. The extension cable's 63" length and the bulk of the lay-flat design at the end make it perfect for resolving issues with range when you need to locate the dongle outside the A/V cabinet, or placing it away from a device that causes inference.
The packaging and accessories are nice, but the Logitech K830 itself is better. It is weighty in a good way, solid and generally feels very well constructed both in use and in the hand. The back light is really nice and the way it works with the light sensor (above the mute key) is fantastic. I also like that Logitech included a second left-click button on the left "trigger" position which makes it easier to use the trackpad while holding the K830 with two hands. The trackpad itself is good for most things, including Windows 8 gestures, two finger scrolling, tap-to-click, etc., but is too fiddly when it comes to complex selection maneuvers – although to be fair, most trackpads are. Range is also good, tested without the extension cable it worked perfectly right up to 30' (in another room) and marginally at 35' where I ran out of house to walk through. In fact, the only real complaint noted was with the spacebar, which requires a heavy touch when pressed off-center.
As a standard HID enabled keyboard the Unifying dongle was recognized and worked as expected on all of the devices tested against including: PC, SageTV STP-HD300, Ceton Echo, and NIXEUS Android based media streamer. It was also recognized and could be used to control navigation on a Samsung smart TV, but I was unable to find any apps that would accept letter input so there was no value in using it with the TV.
Battery
At Missing Remote, before writing a review we use products long enough to get a real feel for how they work so we can properly document the strengths and weaknesses. In this case, the process has taken longer than usual because I wanted to adequately measure battery life under actual conditions, but ultimately it has proved frustrating with the Logitech K830 refusing to fail (note the battery life indicator in the screenshots below taken just a couple days ago) even after over a month and a half of use (including some marathon programming/debugging sessions not usually part of my normal HTPC usage). I will continue to monitor this aspect and provide an update here when one is available.
Software
For most usage patterns Logitech made the right choice by mapping the function keys (F1-12) to alternate behaviors (minimize, maximize, exit, etc.) by default, but I occasionally use some applications (e.g. Visual Studio) where they are important. Fortunately the "Logitech Options" software is available for download which provides the ability to flip them for direct function key access without holding the red Fn key. The software also provides tweaks and overrides for a myriad of other behaviors, as well as access to the Unifying configuration tool should you need to bind multiple devices to the dongle.
Conclusion
Simply put, the $99 Logitech Illuminated Living-Room HTPC Keyboard K830 more than justifies its premium price. In the hand, it feels like a $100 keyboard should feel – solid & balanced, comfortable, attractive. It comes with the right accessories – high quality USB charging and extension cables. The backlight works beautifully, and after more than a month and a half of use the battery is still going strong. There are some issues in use, with the space bar requiring a heavy touch off-center and complex selections more difficult than I would like with the touchpad, but these are niggles in comparison to what it gets right. I hesitate to call it the perfect HTPC keyboard, but it is far-and-away the best I've ever used. Well done.
Pro:
Looks fantastic
Great feel
Good range
Excellent battery life
Context aware backlight
Con:
Spacebar requires a heavy touch off center
Fine grained selection can be a bit difficult
Thanks to Logitech for providing the review sample.