D-Link Announces Wi-Fi Motion Sensor and an AC1900 Router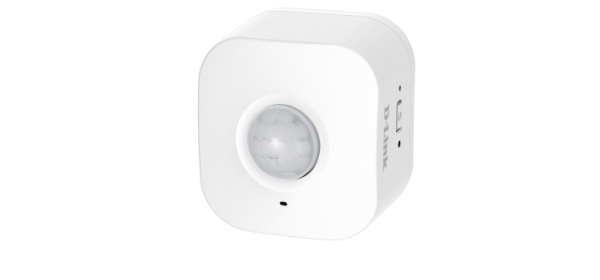 There must be something in the water at D-Link the last few weeks; their product announcements just keep rolling in. I certainly don't mean that as a complaint however. Choice is a good thing :). This time it's a $40 Wi-Fi enabled motion sensor which is part of their growing collection of wireless home automation (HA) devices. We have PR for that device (after the click), but strangely none for the "AC1900" wireless router also announced.
I must admit that I'm not a big fan of D-Link's move towards canister shaped routers, so it was pleasantly surprising to see that the DIR-880L 802.11AC returns to to the [more sensible] external antenna design. Which also makes it much easier to wall mount.
D-Link Extends Connected Home Offerings with

Wi-Fi Motion Sensor and New App for Managing Devices

New Wi-Fi Motion Sensor and Free mydlink™ Home Mobile App Work Seamlessly with

Wi-Fi Smart Plugs and Wi-Fi Cameras for a Complete DIY Connected Home Solution

FOUNTAIN VALLEY, Calif. – June 19, 2014 – D-Link today announced it is now shipping a new Wi-Fi Motion Sensor, the company's latest addition to its line of Connected Home products designed to make ones' home smarter and safer. The compact motion sensor plugs into an open power outlet and alerts users of activity at home with a push or text notification as soon as it detects motion. Whether you want to know when the kids get in from school, make sure the puppy goes outside during the day, or receive an alert when the garage door opens, the Wi-Fi Motion sensor makes it simple to stay aware of what's happening at home.

D-Link today also announced the intuitive mydlink Home mobile app for iOS® and Android™ smartphones and tablets, providing instant control over D-Link® smart devices from anywhere, anytime. In addition to transforming a mobile device into a remote control for D-Link smart products, the free mobile app can also be used to pair D-Link smart devices together to truly automate a home. For example, easily pair a D-Link Smart Plug with a Wi-Fi Motion Sensor to make home electronics immediately react to motion, such as setting an action for the lights to turn on as you walk in the front door, another for a fan to keep the living room cool while you're there, and another for music to play when you step on the treadmill.

"D-Link's Wi-Fi Motion Sensor, along with Wi-Fi Smart Plugs and Wi-Fi Cameras, provide a complete Connected Home Solution that gives our customers the peace of mind that comes from knowing their home – and everything in it – is safe and sound while they're away, " said Daniel Kelley, vice president of marketing, D-Link Systems, Inc. "The ability to control devices remotely, automate electronics and get a quick view of what's happening at home from virtually anywhere puts our customers in the driver's seat of their home security solutions."

D-Link's Connected Home solutions truly simplify home automation and security. The mydlink Home app features an intuitive design that is easy to navigate and fun to use, and the Wi-Fi Motion Sensor uses a simple one-button installation – simply press the WPS button on the Motion Sensor and on the existing router to connect to a home network in minutes.

"Keeping your home safe and secure shouldn't be difficult, nor should it cost an arm and a leg," said Kelley. "We're excited to offer our customers a flexible, full-featured DIY home security solution that can be set up quickly and doesn't require any monthly fees or subscriptions."

More about the Wi-Fi Motion Sensor (DCH-S150):

Instant Alerts – Sends push or text notifications via the mydlink Home app when motion is detected
Pairs with Wi-Fi Smart Plugs – Works seamlessly with D-Link Wi-Fi Smart Plugs to turn devices on/off in response to motion
Compact Design – One-piece wall-plug design is compact and portable; no additional power cables required
Wi-Fi Protected Setup – Push button setup for easy connection to a wireless network
Wi-Fi Connectivity – Requires no additional hub or device, works with virtually any Wi-Fi network
Watch the Wi-Fi Motion Detection video here

More about the mydlink Home app:

Control – Turn connected devices on and off remotely from virtually anywhere
Schedule – Set simple schedules so devices turn on and off right when you want them to
Pair – Easily pair D-Link the Wi-Fi Motion sensor with a Wi-Fi Smart Plug to make devices respond to motion
Instant Notifications – Receive instant push or text notifications so you always know what is happening at home
Create personal rules – Turn events into actions and create a customized home experience. Turn on a device or receive an alert when motion is detected or view your camera for additional peace of mind
Watch the mydlink Home app video here

Availability and Pricing

The mydlink Wi-Fi Motion Sensor (DCH-S150) will be available for $39.99 at Amazon.com, Bestbuy.com, Office Depot, OfficeMax and throughout D-Link's vast network of retail and e-tail outlets. Detailed specifications are available online at www.dlink.com/dch-s150.

The free mydlink Home app will be available for download on the App Store and on Google Play.

About D-Link

D-Link is the global leader in connectivity for home, small business, mid- to large-sized enterprise environments, and service providers. An award-winning designer, developer, and manufacturer, D-Link implements and supports unified network solutions that integrate capabilities in switching, wireless, broadband, storage, IP Surveillance, and cloud-based network management. For more information visit www.dlink.com, or connect with D-Link on Facebook (www.facebook.com/dlink) and Twitter (www.twitter.com/dlink) or D-Link's blog (http://blog.dlink.com/).

# # #