SiliconDust Brings STB-free TV to Google, er…, Android TV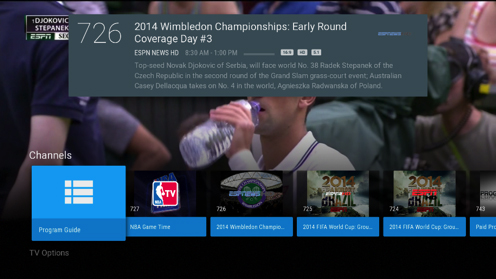 When GoogleTV first came out, it was an interesting idea but poorly executed. Refusing to give up on the idea Google has soldiered on and yesterday GoogleTV became Android TV, bringing their little-black-box OS closer to their main branch of Android which should provide greater access to the catalog of apps available through the Play store. Alongside this, it looks like SiliconDust has been busy writing a plugin which provides Live TV from their popular network tuners, which means you finally don't need an MSO provided STB to view Live TV; removing the kludge of HDMI pass-through and IR-blasting from the mix. Frankly, I think this is really slick and hopefully just a stepping stone towards full CableCARD DVR support (can't be that hard, can it?). I imagine SiliconDust have the same thing in mind because included in their PR is a link to download the plugin that POCs the Live TV integration – hopefully someone takes up the challenge and makes it happen.
Pleasanton, CA – June 25, 2014 – Silicondust USA Inc., innovators of the HDHomeRun® network attached TV tuners, today announced that it was selected to participate in the Google I/O Developer Sandbox being held in San Francisco. Google I/O is an annual developer-focused conference featuring in-depth sessions focused on innovations for web, mobile and social breakthroughs to bring together thousands of developers. SiliconDust is demonstrating its HomerunInput plugin enabling Live TV as a core component to Android TV's platform. HomerunInput uses SiliconDust's HDHomeRun devices to deliver a Live TV source for Android TV devices.
UPDATE: According to Engadget (thanks Skye), all Android TV devices have to have PlayReady DRM (one way to make Copy-Once content work).
There are a few hardware requirements to ensure that Android TV doesn't offer an inconsistent (or miserable) user experience: 2GB of RAM, 8GB of flash storage, WiFi and/or Ethernet, Bluetooth 4, Play-ready DRM and Widevine level one.