SiliconDust opens HDHR Servio/Scribe Pre-orders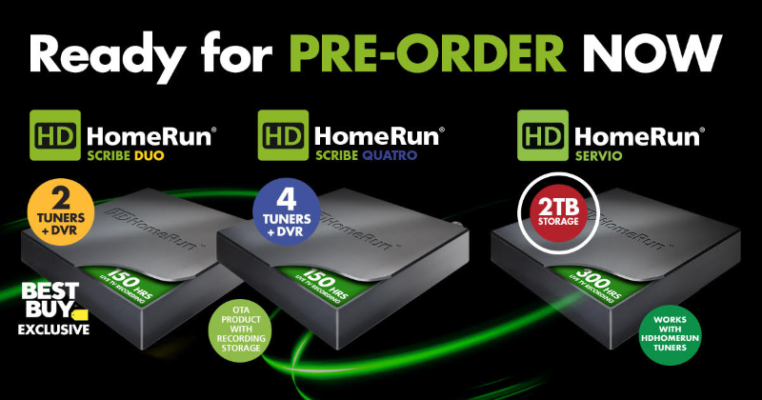 We had a quick peek at the HDHR Servio ($150) & Scribe, in Duo ($200)  & Quatro ($250) forms, at CES, so it was only a matter of time. And here they are, at least in pre-order format. They are BestBuy exclusive (for now), so you'll need to head on over to their site to do the business. Expected to ship July 2nd.
We are excited to announce pre-orders for the new HDHomeRun SCRIBE and HDHomeRun SERVIO.

The HDHomeRun SCRIBE is a one stop solution for DVR, providing 150+ hours (1TB) of storage in a single device that you plug straight in to your router and antenna.

The HDHomeRun SERVIO is a simple plug and play DVR storage device that can turn your live TV experience with an HDHomeRun tuner into a full DVR experience, or it can triple the storage of your HDHomeRun SCRIBE!

Best of all, if you've ever dealt with the old cable box that only includes a single hard drive or only allows you to plug in a single drive into the one USB port, great news! Your HDHomeRun experience is infinitely expandable by adding more HDHomeRun SERVIO storage.