AC Ryan PlayOnHD! mini Media Player Review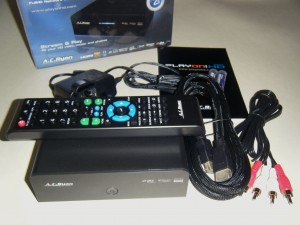 AC Ryan has been developing a large number of media players recently and seem to be doing a good job of it. If you're in the market for a Media Player, make sure to take a look at our Comparison Guide. While I haven't updated it yet with this particular mini, it does have its predecessor from AC Ryan.
I'm no media streaming pro like Damian, which probably explains why I've still been using the XBOX 360 to stream my movies to date. Not a bad thing really, albeit noisy and lack of decent file support and using it as a Media Center Extender hasn't been a bad experience overall. But, after reading so many of Damian's reviews I've been itching to try something out so over the last few weeks I've been getting to grips with an A.C.Ryan PlayOnHD! mini. This tiny box packs in some great features, and a massive list of supported file types for a very low price ($139USD/£85GBP).