Tivo's Big News: New UI & QWERTY Remote (and more)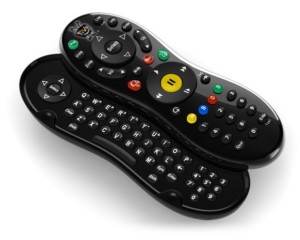 The wait is finally over and the cat's out of the bag. Tivo had its promised news conference today and actually announced a number of exciting new features. Not only did they revamp their HD UI–using Flash–but also unveiled a pretty snazzy remote with a slide-out keyboard. Recently, Missing Remote had a thread going with some wild speculation as to what Tivo had planned. EngadgetHD has a great story covering the entire event, with tons of pictures.
The new UI is only for the Series4, and TiVo's pitching the Premiere
line as a single-box solution for getting content on your TV, so
although there's long been support for services like Netflix
and Amazon
Video on Demand, it's now being pushed to the front — content will
show up in searches and be exposed on the main screen. There are also
new partnerships with Pandora and FrameChannel, both of which will also
come to Series3 boxes.