Logitech Harmony 1000 Advanced Universal Remote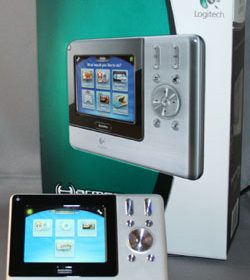 This is just a drop dead sexy remote from Logitech. It's a touchscreen & comes in at under $500, and seems to be more than capable. The question which will remain in the back of my head, is if you're using Vista MCE, do you really want to invest in a remote before the Sideshow-compatible remotes come out? Will these types be upgradeable to sideshow? Only time will tell, but check out the review on this drop dead sexy remote.
The Logitech Harmony 1000 is a touchscreen controller with a nice 3.5"
color screen so conventional wisdom may lead you to believe that you
have unlimited customization options just as you would with many other
touchscreen remotes. Unfortunately this is not the case. In fact, there
is no graphical user interface to create a custom page layout or import
custom graphics to the remote. 
Read the rest here.