PowerColor introduces X1950 PRO Silence Edition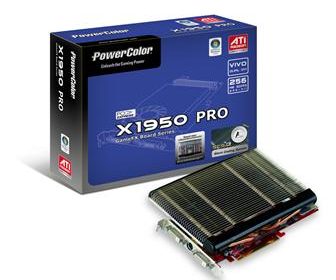 Anyone who's ever built an HTPC knows how important it is to have a quiet system in place. Nothing worse than a silent dramatic part of a film & hearing the whirring of the fans inside your system. Passively cooled video cards definitely help, but keep in mind they also increase the internal temperature of your system.
PowerColor has partnered with Arctic Cooling to provide the noiseless
cooling solution. This specially designed silent cooler features four
heat pipes, a voltage regulator heat sink, memory cooling, and taller
fins, says PowerColor. As a result noise levels (measured in sones)
reach 0 sone, verses the original stock cooler's 2.5 sone, the company
claims. Temperature levels also dip under the stock cooler's 67-degrees
Celsius, to 63-degrees Celsius.
Read the rest here.