Synology – DS-106E NAS Server Review

Storage is something we all need more of, kinda like money 😛 Well, NASes have gained a lot of popularity in the last year, and Synology (who?) have come out with a NAS that allows you to install whatever size HD you please. Not bad to drop a 750gb in there & let it stream to your heart's content. But at $300, is it really worth it? Maybe we should do a guide for how to build your own NAS out of older, slower PC parts for free, eh??!??!
In my opinion, Synology has taken about 90% of the hassle out of tasks that previously were difficult or cumbersome to setup. The
ability to host a website with a few simple clicks, to setup a FTP
server, or to even share files with friends is brought to you in one
simple, yet elegant package… and that package is the DS-106e from
Synology. Throughout every test that I performed, the features of the DS-106e performed outstandingly.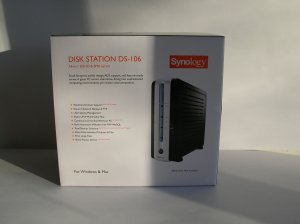 Read the rest here.