Sharp XV-Z20000 1080p DLP projector: Short Take

1080p Resolution…in a projection unit….for only 12 grand? Count me in for one! Heck, how about 2!
The Sharp XV-Z20000 is the third 1080p single-chip DLP projector to
pass through our doors. At $11,999 it bucks a growing trend to less
expensive, high resolution projectors. But it's far lower in price than
competitors such as the $20,000 Marantz VP-11S1 or SIM2's $15K
HT3000. And it offers a lot for the money.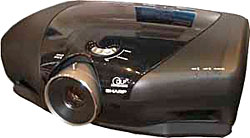 Read the rest at Ultimate AV.