Aurora Multimedia Launches Dynamic Button Controller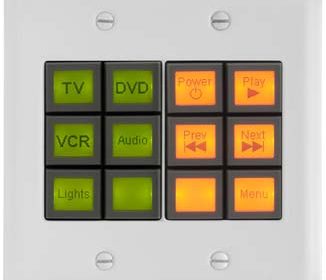 Spotted at Engadget, Aurora has released a Dynamic Button Controller. It takes a Logitech Harmony approach to the its control and will dynamically change its button set depending on what button you pressed before. A quick example would be if you pressed DVD, play pause and all of those good buttons would show up. Below is a snapshot of the controller and the press release.
The WACI PAD-6 was introduced this year at InfoComm and exhibited again at
CEDIA. Without the complex design and programming of common graphic user
interfaces seen on most touch panels, the WACI PAD-6 provides robust
functionality in an extremely intuitive format. Currently available in a
6-button format, the new product fits comfortably in a standard single-gang
metal electrical box. The diminutive size is deceptive in both power and
functionality. The 6-buttons change based on selection, so if a user presses the
"DVD" button the buttons will all change to transport controls. With 64 MB of
RAM each button can support hundreds of unique instances.
Read the rest here.