Patriot Box Office HD Media Player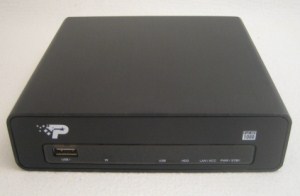 Patriot Box Office HD

Patriot has been around for years, mainly known for memory type products. Recently however, Patriot has branched out quite a bit in their product lineup and have now introduced a viable high definition media player to compete in the somewhat crowded world. This particular unit takes a similar media player concept and hardware platform and expands upon it, allowing hard drive expandability and a few other neat extras to go along with its already solid file support. Could this be the media player to replace all others?
Introduction and Specs
When I first saw the product announcement for the Box Office, I will admit I had my doubts. The media extender model seems to have a product from every company you can imagine. Along with the growth of nettop and other SFF systems it makes the buying decision that much more difficult for consumers. To differentiate somewhat Patriot has gone the extra mile to make sure you are aware of all the extras the Box Office includes, and offers it at a very reasonable price of around $99 after mail in rebate ($129 before).
| | |
| --- | --- |
| | |
| Retail Packaging | The unit itself |
Here is a closer look at the specifications from Patriot:
• Supports Full HD-video playback up to 1080p
• Supports Dolby® Digital and DTS™ surround sound
• Expandable internal storage via 2.5" SATA SSD/HDD
• Supports video playback via UPnP network streaming
• Browse for shared videos, photos and music from networks and USB flash Drives and USB external storage
• Supports file transfer between HDD, USB, Network PC and NAS
• Built in P2P file download management
• File formats supported


Audio Decoding – WMA, MP3, Real Audio (RA)
Image Decoding – JPEG, BMP, PNG
Video Decoding – *[MPEG-1] MPG/MPEG/DAT

*[MPEG-2] MPG/MPEG/VOB/ISO /IFO/TS/TP/M2TS
*[MPEG-4] MP4/AVI/MOV
*[H.264/AVC] MKV/TS/AVI/MOV/M2TS
*[DviX 3/4/5/6, Xvid] AVI/MKV
*[WMV9] WMV
*[FLV] FLV


[Real Video 8/9/10] RM/RMVB support up to 720p
Subtitle – SRT, MicroDVD SUB, SSA, SUB/IDX
That's a healthy list of features and filetypes supported at under $100 so it looks like we might have a winner here. Let's have a closer look at this package and see what's going on.
Inside the Hardware
When first looking at the gloss colored retail packaging of the Patriot Box Office you know the unit is tiny. And tiny it is. The unit is only 5.7" long by 5.5" wide and 1.5" tall, making this one of the smallest media players I've had the pleasure of playing with.
| | |
| --- | --- |
| | |
| The retail box packaging | Unit compared to a quarter |
Unboxing the box is a very nice surprise–the unit comes with everything (and more) that you would need to get started. The package includes: the unit itself, an HDMI cable, power adapter, RCA cables, mini-USB cable (will explain later), hard drive screws, startup diagram, install CD, batteries and the remote control. Quite a lot considering the rather low $129 ($99 after MIR) retail price!
| | |
| --- | --- |
| | |
| Package Contents | Overall size compared to quarter |
Taking a closer look at the unit itself, we can see how well crafted it is. The Box Office logo is subtly etched on the left side, and only a small "P" logo is on the front, allowing the unit to hide very easily wherever you choose. The enclosure is made of metal and feels very sturdy, which is a
nice change to the majority of these devices which are plastic. I am
not a fan of reflective surfaces and fortunately we only find it on a small portion of the Box Office's front bezel.
On the front we find one standard USB port and also IR, USB, HDD, LAN and Power/Standby LED indicators. The rear is pretty packed as well, proving ports for RCA (red, white and yellow), S/PDIF Toslink, HDMI (1.3a ready), power switch, mini USB, standard USB, Ethernet and power. You will notice a lack of component video, which may be a deal breaker for some, but given the proliferation of HDMI ready devices it should not be a problem for most and helps keep the device as small as possible.
| | |
| --- | --- |
| | |
| Front of the unit | Rear of the unit |
Conveniently Patriot also included for our review their 802.11g/b/a wireless (2.4Ghz) USB adapter which is specifically designed to work with the Box Office. While the unit may work with other wireless adapters, at only $20, Patriot's offering is fairly reasonable if you need wireless. Unfortunately all is not perfect with the adapter. As we can see from the photo below, the adapter simply does not fit correctly on the rear of the unit. While you can connect it to the front USB port, for a lot of people that configuration would be unacceptable. Fortunately Patriot included a mini USB cable in the package which is precisely for this purpose. While I am not a fan of hanging another cable from the rear of the system it is a preferred solution I am sure for many consumers. Hopefully Patriot makes the tiny change needed in its next revision so it will be unnecessary. I did receive word that Patriot is working on a few upcoming 802.11n adapters, which in addition to hopefully resolving the rear placement issue below, will also allow for much higher transfer speeds.
| | |
| --- | --- |
| | |
| Wireless Adapter | Adapter bumping into rear enclosure |
The remote control is fairly standard, but somewhat complicated. My biggest gripe is the lack of backlighting. I understand that some tradeoffs are necessary to hit the price point in this very competitive segment, but with 33 (!) buttons on the remote it makes it very difficult to utilize in the dark. While I adjusted to it over time, something as minor as differently sized buttons for the most commonly used (such as play, stop, pause) would be welcome additions to future revisions.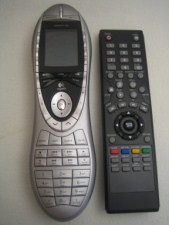 Remote Control compared to Harmony 890
So far the unit is pretty standard. The inclusion of front and rear USB ports is fantastic for those fans of USB memory sticks or hard drives for storing their media, and there is certainly no lack of buttons with the remote as shown. Hardware wise the system shares the same chipset of a number of other players in this segment–the 3rd generation Digital Media Processor SoC from Realtek featuring a 400Mhz
RTD1073DD processor, 128MB DDRII SDRAM and 256MB of Flash ROM
memory. The "DD" version of this chip can decode AC3 and DTS audio (more to follow). What really makes this unit stand out however is the option of installing an additional 2.5" hard drive inside the player for a variety of tasks.
| | |
| --- | --- |
| | |
| Internals of the unit | With the 2.5" drive connected |
Opening up the system you see two items of note–a small 40mm fan and the space/SATA connector for a 2.5" hard drive. Installing the hard drive was a snap. There are two screws on the rear of the system and then the unit slides out and the hard drive installs with two screws on each side (included with packaging). We will cover the benefits of installing a hard drive later.
What needs attention and caution however is the fan itself. There are several other media players using similar (if not identical) chipsets which are entirely passively cooled, so I am assuming the fan is for the benefit of the hard drive. While not a high pitch frequency like some 40mm fans I have heard, the sound is definitely noticeable. In my home theater room which contains an HP MediaSmart Windows Home Server unit, the Box Office was clearly audible. After moving the device into my bedroom for further testing the fan became unbearable. I have since unplugged the fan (without a hard drive in the unit) and have not had any issues. Please note unplugging the fan may void your warranty, do so at your own risk. Patriot obviously included the fan for a reason and you are on your own if things get too hot. I would suggest monitoring the heat initially and making sure to power off the unit when not in use.
So enough about the hardware, let's take a closer look at how the Box Office actually performs!
Software and Interface
Setting up the basic unit to connect with my WHS was a breeze. By default no software is needed to be installed–the included installation CD comes into play only for use with an installed hard drive, which will be discussed more in our "Extras" section next.
When first connecting the Box Office to your television you are greeted with the initial setup stages–setting the language, time zone and then configuring the network. Fear not, there are plenty of other configuration options later on, but this is all that's needed to at least get you rolling. I connected the Box Office through an Onkyo TX-SR606 A/V Receiver connected to a 40" LCD screen that's several years old and had no problems with detection. Make sure to visit the Patriot forums before buying however, as there is a useful thread pointing out some monitor incompatibilities. If you are using a smaller display and having issues with HDMI, you may want to try connecting via RCA, which provides decent quality if the display is small enough (would not try this on a 50" plasma).
| | |
| --- | --- |
| | |
| Main setup screen | Main menu screen |
At the main menu you are greeted with a very (VERY) simple interface. You will either love it for its minimal items or hate it for just that reason. The main menu consists of File Copy, Browser and Setup. I am not a huge fan of the interface for one reason–most people will always go to the Browser since that is where their files are. While File Copy is a cool feature and setup is of course important, I can't help but feel that a bit more time spent on usability would have gone a long way on the first screen you are greeted with every time you turn on the unit.
File Copy allows you to select a file from a location either locally (like a USB device) or over your network and transfer it to the internal hard drive. A nice feature but one that leaves you on the progress screen while it does its magic. I would imagine most people would transfer over content using the Samba features (see the Extras section) anyways, but for those more comfortable with remote the feature is there.
| | |
| --- | --- |
| | |
| Digital Output Settings | Video Settings, including 24Hz support |
As we proceed through the various UI screens you can see the simplicity continued throughout. My gripes with the UI therefore continue here as well. On the lower left image you can see the main page after you select "Browser." I have to believe that the majority of people will be returning to the same section–in my case it is my WHS box under NET–>My Shortcuts–so having to always go through the main menu, then this page, click on My Shortcuts and then finally click the WHS location…just all seemed rather cumbersome. I hope future revisions will include the ability to always jump to a certain section of the menu, as it would save me and I'm sure other users a fair amount of time.
| | |
| --- | --- |
| | |
| Various Ways to Access Data | Creating a Shortcut |
There are quite a few good points to the Box Office's UI though, so don't be discouraged. For starters, it's a singular interface to navigate through your Videos, Photos and Music files, even with the ability to browse All at the same time. This came in handy for me as I was navigating for movies, but the "All" feature allowed me to view the "folder.jpg" file containing movie cover art so I at least get a taste of what I'm watching. Not nearly as detailed as say what's possible on a Media Center PC, but better than only showing the movie files.
The on-screen keyboard is critical for being able to login to your WHS or other password protected boxes, and I found it very easy to use. Another unfortunate caution which I know Patriot is working on–there is currently a glitch with connecting to a Windows 7 system to access files. While there is a workaround , it is something to remember before trying it yourself.
| | |
| --- | --- |
| | |
| WHS Login and Password | Blu-ray Rip *.ISO Playback |
Another aspect of the UI which actually IS configurable is the ability to preview a file prior to playback. I rather enjoyed this feature, but you should be cautioned if you choose to enable it–you will not be able to play a file until the preview has loaded. A minor inconvenience, but one that became much more noticeable once I moved to wireless due to the slower network speed. Again, this is easily disabled via the Setup menu if you don't like it, so it's hard to quibble over this.
The rest of the user interface is quite easy once you figure out the flow of things. For example, the blue "options" button on the remote control becomes very useful throughout the browser, and even allows you to delete or rename folders or files as you navigate. When you play a video file hitting the "display" button will show you the video details such as type and the audio tracks available. Switching through subtitles is also a snap with the remote, and controlling the volume is equally simple and convenient given that the remote is not able to control other devices. If you have large libraries, the lack of a page up/down button will be frustrating, but luckily holding down the arrow key allows for a fast scrolling option which helps.
Overall I was very pleased with the UI given the overall package and the fact this is a first revision of the product. Once configured it makes life much easier, but it's nowhere near the simplicity needed to be for me to recommend this to my parents.
Power and Performance
The benefit to these types of Media Players–the Box Office in particular since you can add your own hard drive to store content–is that they can run as a self sustained device. Unlike a Media Center Extender (remember those?) which requires the Server PC to be on and thus drawing more power, the Box Office can run in and of itself without any other computers being turned on. Let's take a closer look at the data to show just how impressive this unit is in regards to power savings. For comparison, I will include the ASRock ION-330 we previously reviewed , which is one of the lowest powered fully functional systems I have seen.
| | |
| --- | --- |
| System | Power Draw |
| ASRock Ion-330 | 26 idle/38 max |
| Box Office (no drive) | 6 Watts |
| Box Office (with 160gb 2.5" Drive) | 9 Watts |
| Box Office in Standby Mode | 0 Watts |
While the 6 and 9 watts are very impressive for the Box Office, the 0 Watts used in Standby mode is what really surprised me. Even the most power efficient systems will usually draw at least a couple watts when in it, which will normally allow for faster boot time. The beauty of the unit is that even with its low power draw, bootup time was an amazing nine seconds! If you add a hard drive and enable Samba/Bitorrent (more in the Extras section) then boot time increases to a still reasonable 20 seconds.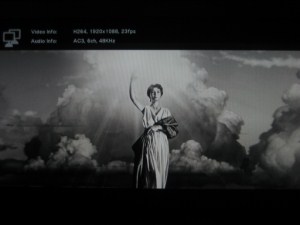 Video and Audio Info on-screen
Power efficiency and savings is fantastic, but that's expected in a media player device. The real impressive parts come when you consider what the system is capable of while generating such little power. To fully test the capabilities of the Box Office, I used a hard wired Ethernet cable connected to the unit's 10/100 port, connected to a gigabit switch where the WHS is also connected. The Box Office had no problems detecting and playing almost any file I threw at it–including most impressively DVD rips in Video_TS folder structure as well as Blu-ray movies ripped as an ISO. The second bit was slightly disappointing for two reasons. First, most of my movies are not stored in ISO format, so I would need to re-rip them to be able to use them with the Box Office. Secondly, only the main movie itself is playable–no extras or menus at all. I was able to confirm with Patriot that this IS being worked on actively, but no timetable yet. That being said, the device had no problems with stuttering, choppiness or any sync issues with any Blu-ray or other high definition formats I had available to test, including MKV, DIVX, XVID and even Quick Time files.
Being a Media Center cable card user finally with copy freely, the ability to play those WTV or DVR-MS files was something I was very eager to test out. Unfortunately neither filetype was playable. While I could process the files to a supported container, this is something a Media Center Extender and even the ASRock is able to do out of the box.
The picture quality was phenomenal. I would imagine the tests would be even more pleasant with a 24p television connected given the unit's support of it, but I found picture quality to be on par with our standard test system based off the Intel DG45ID graphics which provide some of the best picture quality from a PC system. I tested the Box Office via HDMI at resolutions of 720p, 1080i and 1080p on the 40" display and all performed without any issues. Additionally the unit was tested on a 20" Sharp LCD connected via the composite RCA cables. While performance was not as crisp as via HDMI, the quality was still acceptable if needed.
Audio support includes a maximum of 7.1 multichannel LPCM audio, but not the ability to bitstream the high definition formats of Dolby TrueHD or DTS Master Audio. I will let the debate over whether LPCM is or is not as good as bitstreaming of those HD audio formats but the ability to still support 8 channels of audio is a welcome addition to the box and a feature not found on every player at this price point. Of course, you can bitstream the older 5.1 audio formats such as Dolby Digital and DTS, so almost any scenario is supported. I have received confirmation that Patriot is actively working on getting HD codec bitstreaming functionality working, but could not give an ETA on when it would be ready.
A final note on playback performance is the included support to resume video playback of any and all video formats. This is a feature which simply worked, even with the ISO Blu-ray rips. Overall, I found little to complain about given the vast file support and flawless playback experienced with the unit. Of course, the larger high definition files were unplayable over the wireless adapter though, so keep that in mind when planning out where you will place it.
Extras
Whenever you build and sell a device based on a well known and common chipset, the question of value always comes into play when making your buying decision. Patriot has taken the challenge out of this equation by not only offering the Box Office at an extremely competitive price, but also with a wealth of unique features unmatched thus far.
Allowing the option to install a 2.5" drive allows the user to have a number of extra features which help make the system stand out on its own. In addition to of course being able to have files on the hard drive accessible by the player, there are two powerful extras included with it. The first is Samba support. When you first install a hard drive you are prompted to prepare the drive, which will format the drive for use with samba. The main reason for wanting this is that it allows the Box Office hard drive to be accessible over the network allowing the user to copy or save files to the hard drive remotely. Samba is fairly powerful so there are other hacks and tweaks you can do with it, but for the most part this will suffice.
| | |
| --- | --- |
| | |
| Main Screen on newly inserted HD | Formatting the internal drive |
The second part, also tied to the requirement of having a hard drive installed is the ever controversial Bitorrent support (crowd goes wild). Bitorrent is a file transfer protocol for sharing and downloading files over the internet. I won't get into the details of how it works, that's what Wikipedia is for! I personally use uTorrent myself, so that will be my main basis of comparison. Below are some screenshots of how the interface works. The idea is simple–you install the transcoding software on your system (even though no transcoding is occurring), enable Bitorrent via the system Setup and then configure the software from your PC. That is the one catch, you will need a PC to use this feature to load the torrents, but the downloading does occur on the Box Office itself, so your PC only needs to be on to load it.
| | |
| --- | --- |
| | |
| Transcode Server on a PC | Main Bitorrent Login Page |
The interface is called "Neighbor Web" for some reason, and the "Transcode Server" you install is made by Realtek. This all makes for a confusing mess if you don't know what you're doing, but for the most part everything works as it should. The Bitorrent interface is pretty simple with essentially no learning curve; just do not expect all the customizations and tweaks that you have grown accustomed to from your favorite PC based Bitorrent client.
| | |
| --- | --- |
| | |
| Select a torrent file | Manage the Bitorrent settings |
To test this feature I used a publicly free available torrent file and saved that to my desktop. Using the browser interface, you simply click Browse to select the file, and then it starts. The settings page above shows all the changes you can make, including seed time and maximum upload/download speeds.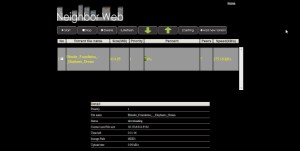 Bitorrent status page
And these are just the features which are actually supported. As hinted to earlier, the inclusion of a hard drive with samba support really opens the door to tweakers and the like. If you browse around the Patriot forums, you will see users coming together for a number of features such as making an FTP server out of your Box Office. Forward the port on your router, and you can even access the Bitorrent interface from anywhere in the world as well. The possibilities are there which give the Box Office some of the most extras we've seen from a system.
Conclusion
If you have been following the news posted by MissingRemote for the last 6 months, you will certainly have noticed an increase in announcements of media player devices such as the Patriot Box Office. With so many players in this space the biggest question facing consumers are which is the right one to buy with the most features for the price. Patriot has gone above and beyond with their first offering with the Box Office.
Coming in at just under $100 MSRP (after $30 mail in rebate), it puts the Box Office right on par with the O!Play from ASUS, the Roku device (minus some online offerings) and pretty much any other media player out there, all while adding a number of features unique to it. While most of these devices require either an internet connection or connection to a server, the inclusion of a hard drive port opens the options for users who want to maximize a system's potential. I can really see the community get behind this due to its low cost and feature set, adding even more to its already impressive arsenal.
While I would have liked to see a more refined UI to target more basic users, for a first revision I think Patriot has done great here. Catering to the early adopter crowd by giving them all the technical features we crave will only add to the positive remarks on it and the system's popularity. Hopefully Patriot stays behind the unit (which I'm sure they will given the attention they have been giving their online forum community) and improves the UI and features. If they could somehow manage some sort of web portal or internet capabilities to compete with the likes of Boxee or Roku, that would really put the Box Office at the top.
Pros:
Draws less than 10 watts, even with a hard drive installed
Easily handles 1080p video formats
Supports 7.1 HDMI LPCM Audio
Blu-ray ISO support
Affordable price
Very small
Bitorrent and Samba support
Ability to connect to or add hard drives
Volume control
Fast boot time
Draws 0 watts in Standby
Video playlist/resume functionality
1080p/24Hz support (untested)
Cons:
Wireless USB adapter does not fit the back USB
Lackluster User Interface
Cannot bitstream HD audio streams
No support for Blu-ray menus and extras (though being worked on)
No component video
No WTV or DVR-MS filetype support
Complicated setup to work with Windows7 machines
No backlit remote
Thanks to Patriot for providing the unit for review.