Intel's DH55TC and Core i5-661 – Clarkdale
Intel DH55TC & Core i5-661 (Clarkdale) Review

The family of processors code-named "Clarkdale" has sparked a great deal of interest since
its existence and some basic performance information spread out across
the web in late September. Teasing home theater PC (HTPC) enthusiasts with incredibly
low power usage and built in HD codec bit streaming all packaged together with enough performance to tempt those in need of a full
featured HTPC.

Given
Intel's somewhat troubled history with integrated graphics there has
been a lot of skepticism on how well (and if) Intel can deliver a serious
contender for space in your A/V stack.
Clarkdale Platform
Before digging into our review sample let's take a
quick look at the Clarkdale lineup and supporting platform.
Like all LGA 1156 CPUs Clarkdale integrates the functions previously handled by a chipset's north bridge into the CPU. While similar to earlier Core i5 chips in this way, Clarkdale also has some significant differences. The biggest is that the GPU has also been integrated onto the CPU package, in addition all Clarkdale CPUs are manufactured using a 32nm process technology (the GPU is 45nm) and are dual core processors.
The Clarkdale family is comprised of three
discrete lines of CPUs; Core i5, Core i3 and Pentium G6XXX. Each line has
a slightly different set of features; to make the feature discussion easier
please refer to the cheat sheet below.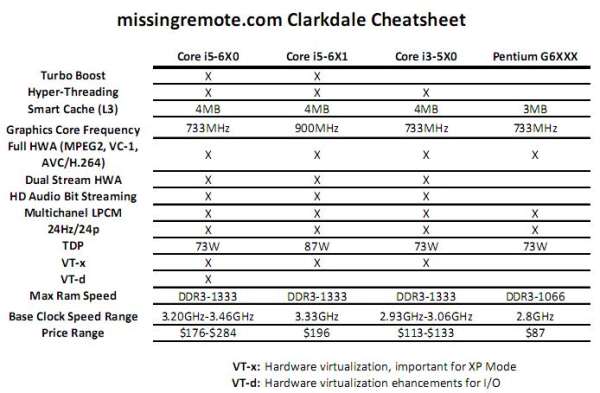 As we can see every chip in the family except the
i5-6X1 (e.g. i5-661, our review sample) carries a 73W TDP. At first look
this seems a bit high for a CPU aimed at the HTPC enthusiast, but it's critical
to remember that this is the TDP for both the CPU and GPU, which is actually
quite good. Taking a closer look it becomes clear why the i5-6X1 carries
an 87W TDP, as the GPU runs at 900MHz instead of 733MHz like the rest.
The extra MHz won't help for any of our use cases making it of more
interest to the casual gamer.
The only notable feature missing from the i3
versus the i5 is Turbo Boost. Turbo Boost is an interesting feature where
a single core temporarily runs at a faster speed, so for example a single core
on the 3.33GHz i5-661 can run at 3.6GHz; a nice boost for single threaded
applications.
Both the i5 and i3 support Hyper-Threading (HT);
don't worry Pentium 4 owners this time it's a good thing (21% gain in Handbrake
transcoding). Both also support full dual-stream hardware accelerated
(HWA) video decoding (i.e. Blu-ray picture-in-picture) for MPEG2, VC-1 , and
AVC/H.264 as well as HD codec bit streaming (yes, you read that right; bit
stream TrueHD and DTS-MA – huzzah!). Rounding out the notable specs is
VT-x, which while not a huge feature is a nice to have if the HTPC also serves
time as a PC and you want to use XP Mode in Windows 7.
Where the i5 and i3 are quite similar the G6XXX
gets stripped down; losing HT, dual stream video HWA, and one of the more
compelling features to HTPC enthusiasts – HD codec bit streaming.
That said, it should still be a competent performer, very similar in practice to
results achieved with a G45 based HTPC (although if that's what you want an
E5300 + DG45ID is a better deal). Personally, if budget was an issue I'd
probably try to cut the $26 difference to the base i3 out somewhere else.
Technically there are four chipsets that will
support the Clarkdale family; H55, H57, Q57 and P55. The P55 has been out
since September and makes up the "technically" because while a Clarkdale CPU
will run in it, the GPU won't; so for the purpose of this review it will be
ignored.
The H55, H57 and Q57 chipsets are almost identical
in feature set; most of the differentiators are aimed at the corporate market.
The only relevant differences between the three are the number of USB ports (H55
can have twelve and H57/Q57, fourteen) supported and that boards based on
H57/Q57 can optionally support RAID.
Intel will have five boards available; three micro-ATX, one ATX and one mini-ITX. See the break-out below for the
details.
The lineup is pretty thorough, but only the DH55TC
(our review sample) will have global availability immediately and should come in
at around $100. There will also be boards from other motherboard
manufacturers available immediately as well.
Enough background, let's dig into the good stuff.
Hardware and Specifications
The DH55TC is a pretty minimalist micro-ATX board
with a well thought out layout except for two minor exceptions.
The first, and most annoying, is that the clip to
hold the fan wire on the stock heat sink and fan (HSF) will make contact with
RAM in the first DIMM slot (or block it if the RAM has a heat spreader) when
installed in the preferred orientation. While it's not a huge problem to
rotate the HSF, the fan wire has to be released from the clip and isn't flush
against the HSF. The second issue is the placement of a capacitor right
next to the four pin ATX power, which will cause problems if the power supply (PSU) has an eight pin
connector.
The I/O panel has all the necessary ports
including a PS2, DVI-D, VGA, HDMI and plenty of USB. Notably missing for
HTPC versatility is a S/PDIF connector, but there is a header present to
BYOS[/PDIF] if it's an essential feature.
The BIOS is straightforward (full gallery below)
with just a couple areas to discuss.
Like most boards, the DH55TC's default SATA
controller mode is IDE and must be changed to AHCI before OS installation to
make full use of NCQ or eSATA features. Neither Vista nor Windows 7
required extra drivers (i.e. F6 + floppy) during the install so in my opinion it
would be better for the board to ship in the optimal configuration.
One really nice feature that I've never seen
before is the ability to choose how the power LED should behave in S3 mode.
Options include "Off", "Blink", "On", and "Alternate Color" (only some cases
will support this mode). In the first case to house this board a
strange issue was encountered where selecting "Off" would turn off the LED
initially when the system entered S3, but after a few hours it would come back
on. The issue wasn't reproducible on another case so it was most likely
the age and/or cheapness ($15); somewhat annoying but a workaround was available
by selecting "Alternate Color" which [oddly] produced the desired result.
See below for the full gallery of all the BIOS pages as previously mentioned.
System Configuration
Configuration:
DH55TC micro-ATX
Core i5-661 (3.33Ghz 87W TDP)
A-DATA 4GB (2 x 2GB) DDR3-1333
Seagate 200GB 7200RPM Hard Drive
Antec Earthwatts 380W PSU
Both Vista and Window 7 were tested, and in all
the major areas (Media Center, SageTV, and Blu-ray playback) the experience was
identical. The majority of testing was performed with Windows 7 however,
so there may be some discrepancies as we discuss specialized features in detail.
OS installation was very easy, but unfortunately
neither Vista nor Windows 7 included drivers for the integrated network
interface which is not a problem if prepared — just keep that driver CD handy.
Overall the system is fast and incredibly stable. Despite my best efforts
(only the HSF and PSU fans were used in all of the tests) I was unable to make
the system crash or lock-up. Hibernation (S4), standby (S3) and resume
work brilliantly; no issues going into or coming out of the different power
states were experienced. For completeness, tuners from AverMedia
(Duet/M780) and Hauppauge (HVR-2250/HD-PVR) were tested for stability and
functionality with Media Center (Windows 7 and Vista) and SageTV (Windows7* and
Vista) without issue.
*Windows 7 is not currently supported by SageTV,
all tuners were tested on 7 and everything worked as expected except for the
HVR-2250 which exhibited the same dual-tuner issue experienced on my reference
780G based HTPC.
Also notable is that the video configuration
interface was completely redone for Clarkdale, exposing more settings and making
the UI much easier to use than the previous version. For those who need to
create custom resolutions, the process is both straight forward and full of
options to get exactly what you need.
All of the testing was done on a 1080p plasma so
there wasn't an opportunity to really dig into the custom resolution feature
(the display was correctly detected and configured when connected).
But I did play with the overscan correction
feature a bit. To get a feel for how well it works 1-1 pixel mapping was
disabled on the TV, inducing some overscan. Conveniently the setting is
exposed through a set of sliders on the main page (anyone familiar with the
Nvidia and ATI interfaces should find it very similar), and works exactly as it
should.
Kind words for the TV Wizard still escape me
however; allowing it to run resulted in 800×600 being selected as the optimal
resolution. Apparently this application is intended to be used to
configure CRT displays so perhaps the behavior is forgivable, but if that is the
case I wish that it wouldn't pop up for digital displays as those most likely to
click through the wizard are also the least likely to realize that the settings
it chooses aren't correct.
Audio
One of the most interesting features packed into
the Core i3/i5 is HD codec bit streaming so it's no longer necessary to buy an
expensive sound card (Xonar/X-Fi) or a discrete video card intended for gaming
(ATI 5XXX) to add Dolby TrueHD and DTS-MA pass-through to the AVR.
Particularly interesting is how Intel's approach with this feature is exactly
the opposite of ATI's with the 780G/785G IGP which only offers stereo (vs. multichannel) LPCM over the
HDMI connection.
Looking at the "Sounds" control panel for the HDMI
audio device on Vista and Windows 7 it's clear that support is presented at the OS level.
I still believe that "lossless audio is lossless
audio", but this is an important step forward because
HTPCs are all about choice and flexibility (it's also nice to take away a
talking point from the standalone BD player guys :)); to bit stream or not can
now be a personal preference and not a hardware limitation. What's
particularly brilliant about the implementation is that it just works with every
mainstream Blu-ray player so retail versions of PowerDVD, Total Media Theater or
WinDVD can be selected based on preference and not by what is required with a
particular sound card (Arcsoft for the ASUS Xonar, Cyberlink for Auzentech's
X-Fi). And if you install ffdshow 3164+ (at least on Window 7, Vista was
not tested) HD audio bit streaming also works in DirectShow based players
including Media Center and SageTV.
Video – Good
Starting with Blu-ray playback, simply put the
results were excellent. Cyberlink PowerDVD (PDVD), ArcSoft Total Media
Theater (TMT) and Corel WinDVD (WinDVD) were all tested and each player
performed very well. The current retail version of PDVD Ultra and WinDVD support Clarkdale and Arrandale (mobile Clarkdale), where the update to TMT3 will be available in early February.
PDVD and TMT did require some additional
configuration to enable HD bit streaming (selecting the correct output from the
audio tab of the respective settings dialog), where WinDVD enabled the feature
automatically. The experience from Media Center was most seamless using
PDVD, as its "integrated" player is both remote friendly (WinDVD is not) and it
was possible to enable HD codec bit streaming (I couldn't figure out how to do
this in the TMT integrated player).
AVC/H.264 (Quantum of Solace) Blu-ray playback
registered between zero and four percent CPU utilization and VC-1 (The Dark
Knight) came in at a slightly higher two to five percent, confirming that HWA is
working quite well on the platform.
The results were very similar with 1080p AVC/H.264
and VC-1 content in M2TS and MKV.
One of the challenges with VC-1 content stored in
MKV is how the content is presented by the splitter (instead of using the VC-1
media type, WVC1 is used). Some early reviews have incorrectly noted
issues with VC-1 HWA because of this, incorrectly finding problems with the
platform where the root cause is simply a media type incompatibility leading the
WMV DMO (Microsoft's software based WMV decoder) or another software based
decoder (like ffdshow) to be used in the playback graph. On ATI platforms
the solution is to grab the MPC-HC video decoder. While there are
indications in the source code that the MPC-HC developers are working on VC-1
acceleration for Intel graphics, it's not working yet. Fortunately there
is a solution in Intel's Media SDK.
There is a lot of good stuff in the Media SDK
for developers looking to get a head start using the platform (both CPU and
GPU), but most importantly the fact that it exists is a strong signal that Intel is serious about media consumption on their hardware. The most interesting part (for the purpose of this review) is the sample
WMV decoder, which after some customization works quite well with WVC1 content contained in MKV. With this customized filter, we see CPU utilization
that is very much in line with what we expect from proper HWA. For those
interested in using the customized decoder (tested on Vista and Window 7) it can
be downloaded here;
a little MissingRemote value add :).
Integrated graphics (IGP) have historically
struggled with proper deinterlacing support, so we are going to dig into the
i5-661's capabilities in this area. To probe the capabilities of the different
graphics solutions tested, patterns found on the Spears & Munsil HD Benchmark
disc were selected. There are several patterns on the disc so just the
most common types will be discussed.
We will be looking at the source
adaptive 2-2 (two fields per frame, equivalent to 30fps)and 2-3-2-3 (PF-T) (two
fields for the first frame then three fields containing one frame and one field
of the next image, most commonly used for transferring 24p film to 60i video)
wedge and the edge adaptive "Jaggies" (tests the ability to deinterlace without
jagged stairstep patterns on edges) tests below.
In the source adaptive tests moiré should be
present only in the last quarter of the wedge, overall brightness should be
consistent, and there should not be any flickering. In the "Jaggies" test
a rectangular bar rotates through a large inner circle of alternating black and
white lines, as it moves the edge of the bar should remain smooth (not jagged)
along the length of the bar, any distortion that occurs as it passes through the
alternating lines should remain close to the bar and the alternating lines in
the circle must be solid and not flicker.
Intel Core i5-661 (15.16.5.2021)
2-2: moiré was present up to ½ of the wedge,
pattern was consistent and solid
2-3-2-3 (PF-T): moiré was present up to ½ of the
wedge, pattern was consistent and solid
Jaggies: The moving bar is very straight. The
circle maintains alternating pattern, and only a thin line of distortion is
present as the bar moves through it.
Intel GMA X4500HD (15.15.7.1994)
2-2: moiré was present slightly past ¼ of the
wedge, pattern was consistent and solid
2-3-2-3 (PF-T): moiré was present slightly past ¼
of the wedge, pattern was consistent and solid
Jaggies: The circle maintains alternating
pattern, but the moving bar is very jagged.
ATI 4650 (Catalyst 9.12)
2-2: moiré was present on slightly more than ½ of
the wedge, pattern was consistent and solid
2-3-2-3 (PF-T): moiré was present on slightly more
than ½ of the wedge, pattern was consistent and solid
Jaggies: The moving bar is quite jagged as it
moves. The circle is drawn correctly, but a long tail of distortion trails the
bar as it moves.
ATI 5770 (Catalyst 9.11*)
2-2: moiré was present up to ½ of the wedge,
pattern was consistent and solid
2-3-2-3 (PF-T): moiré was present up to ½ of the
wedge, pattern was consistent and solid
Jaggies: The moving bar exhibits a little
jaggedness, but is mostly smooth. The circle is drawn correctly, but a long
tail of distortion trails the bar as it moves.
Nvidia 8600GT (Nforce 195.62)
2-2: moiré was present on slightly more than ½ of
the wedge, pattern was consistent and solid
2-3-2-3 (PF-T): moiré was present on slightly more
than ½ of the wedge, pattern was consistent and solid
Jaggies: The moving bar is very jagged as it
moves. The circle is drawn correctly, but a very long tail of distortion trails
the bar as it moves.
Based on the results across all of the tests it's
obvious that Clarkdale is a solid performer; owning the edge adaptive and
performing as well as or better than the discrete cards in the source adaptive;
unless the HTPC will also be used for serious gaming there's not much need for a
discrete card. That said, what's clearest from the source adaptive tests
is that there is a lot of room for improvement from all the vendors (although
the GMA X4500HD's performance bodes well for Clarkdale); and I hope each one of
them will make improvements in this area.
*The borrowed ATI 5770 had to be returned before
9.12 was available
So that was the good, now it's time for the "needs
improvement".
Video – Needs Improvement
Most of the testing was conducted through a Denon
AVR-1909, and when connected to this audio video receiver (AVR) the board was
unable to create a secure HDCP path to the display. The issue is easy to
workaround if AnyDVD HD is present, but obviously it should just work.
This issue does seem to be limited to the AVR-1909
as other AVR (including a Denon AVR-3808) tested did not exhibit the problem.
UPDATE – 03/22/2010:
I picked up a 15′ HDMI cable per
Intel's recommendation and using it the board was able to successfully
negotiate a HDCP connection during Blu-ray playback. A big thanks to
Intel for the follow up and workaround.
Two other issues with the shipping driver
(15.16.5.2021) were also uncovered in testing. First when video is played using
default settings the content is too dark (i.e. the brightness setting needs to
be changed from 45 to 77 on my TV) and the second is an issue where values 16-21
are clipped and indistinguishable. Intel is aware of the problem and
provided a beta version of the video driver which mostly fixes the issue,
hopefully with some more time in the oven everything will be perfect.
The operative phrase with this issue is "by
default", and that shouldn't be taken lightly. One of the strengths of the
GMA X4500HD was that it just works out of the box to deliver excellent picture
quality. Thankfully addressing the issue is quite easy; just open up
the graphics properties, select the "Media" tab, check "Override Application
Settings" and fire up your favorite pludge
pattern then adjust the "Brightness" value.
Fine tuning can be a bit difficult using only the
mouse, so click-and-hold the slider and use the right/left arrow keys to get the
perfect black. Once this adjustment is made, both the brightness and
clipping issues disappear and the full PC and video colorspace (0-255 for
non-video content and 16-235 for video) is represented properly and we're back
to the excellent picture quality expected from the platform.
Performance and Power Usage
To get a good feel for performance, instead of
looking at a bunch of synthetic numbers we're going to dig into two of the most
demanding scenarios that justify the need for some BHP
in the HTPC. Please note that in all of the graphs lower is better.
In the first test we're going to look at
ShowAnalyzer's (SA)
performance with various content types. For those unfamilar with SA it is
an application that scans video files for commercials so other applications can
remove or skip them during playback. SA is one of the most demanding
applications I've seen, and makes an excellent test tool because of the stress
it places on the box both through large amounts of I/O and excellent
multithreaded CPU punishment.
In this test three containers (MPG, WTV and TS)
with MPEG-2 and H.264 were scanned on four different machines. All of the
machines were configured with 4GB of RAM and a 3.5" 7200RPM SATA drive running
in AHCI mode.
Looking at the results, what is most surprising is
how competitive the i5-661 is with the quad core parts. In every test it
was faster than the 9950, and while slightly slower (within a few seconds) than
the Q6600 with MPEG2 files it took almost five minutes less when scanning H.264
content. The E5200 was included to provide a reference for what a low
power HPTC brings to the table.
The next performance test was a series of
transcoding runs using Cyberlink MediaShow Espresso and Handbrake 0.94.
Espresso is an interesting application because it supports CUDA and Stream (GPU
assisted decode/encode technologies from Nvidia and ATI) as well as GPU assisted
decode on Clarkdale.
Two approximately 30 minute recordings were
selected to transcode using the built in iPhone profile. The i5-661 was
paired against a Q6600 to judge a pure software transcode, and an E5200 using an
ATI 4650 (Stream) and an Nvidia 8600GT (CUDA). With the exception of MPEG2
content on the 8600GT in each case the i5-661 was significantly faster. It
would be easy to discount these results with claims about the CPUs/GPUs used to
compare, but the point is not just to discuss raw performance but performance
inside a specific power envelop. Even the E5200 when paired with a
discrete card drew slightly more power than the i5-661 under load.
In our last test Handbrake was used because it's
free, incredibly popular, and a great way to test multithreaded CPU performance.
Because it does not utilize (as far as I know) any GPU assist the discrete card
was removed from the E5200 based system and measured against the same group as
the first test.
As we can see the i5-661 is very close in
performance to the two quad-core systems, but significantly more power efficient
under load. Only the E5200 beats it, but taking more than twice the time
to complete the test.
Rounding out our look at power consumption the
table below was prepared.
It is important to note that all of the numbers
above were measured with the 87W i5-661 so the numbers should be
somewhat lower using a 73W part, which makes more sense in an HTPC. Even with the 87W CPU I had no
problem running the system with only the fans on the HSF and PSU keeping
everything cool.
Conclusion
Intel has done what many would not have thought
possible by creating an incredibly compelling platform for the HTPC. While
not perfect, and sporting some teething issues, it's hard to argue with the
features and value that the platform offers. Of course while my id would
like the entry price to be a bit lower (the cheapest part that supports HD audio
is $113) my ego has a hard time reconciling that desire with the feature set
provided.
The Clarkdale solution will now up the bar yet
again for other manufacturers seeking to compete on a feature level, and poses
an interesting question to the likes of soundcard manufacturers struggling for
relevance after betting on being the sole bit stream providers—why spend an
extra $150-250 on their solution when it is included "for free". Of course if
you already have a perfectly good system and graphics solution, the idea of
replacing your motherboard/CPU might make you cringe, and as stated this
platform is not ideal for hard-core gamers.
For the HTPC crowd however, Clarkdale brings us
that much closer to HT Nirvana. It's a (somewhat) affordable solution which
gives the user low power draw so it can run cool and quietly, supports the same
HD bit stream capabilities of the highest end audio cards; while arguably
providing the standard in HTPC picture quality…and it even properly handles
standby and hibernation!
Pros:
Excellent picture quality for every format tested
Deinterlacing performance as good as or better
than discrete cards
HD codec bit streaming
Low power consumption
Performance competitive with previous generation
quad cores
Correct[able] black levels for all content –
pictures and video with minimal tweaking (should work flawlessly in future
driver versions)
Cons:
HDCP issues with Denon AVR-1909
Some tweaking required to get proper black and
brightness levels during video playback with current driver version
G6XXX line has drastically reduced features that
could cause confusion
Lastly, I would like to thank Intel for providing
the review sample.