Sharp Press Conference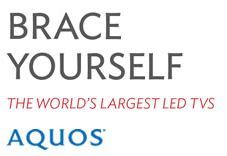 Where Panasonic didn't want to talk display tech, Sharp was all about the advancements they'd made in the last year to make bigger, brighter & better consumer displays. The IGZO process, codeveloped with Corning, is the main driver of this year's top-of-the-line TVs -which top out at 90″. If that's too big they are also selling 80, 70 & 60″ 1080p displays as well boasting technologies like Super Bright and Quatron (which as a side effect of adding a fourth, yellow, pixel also adds brightness) to make their displays more vivid.
Click through to check out the photos from the event. Including some pictures of their upcoming ICC PURIOS 4K LCD.
Sharp
Sharp UltraHD (4k)