WiSA @ CES2014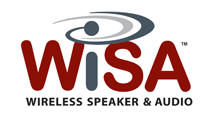 I was impressed enough by WiSA last year when I stopped by for a demo to schedule a meeting this year to see what twelve months of progress has done for the ecosystem they are trying to build. We had already discussed the specifics of the technology so this time around it was all about new products, segmentation and where they expect their market to go in the next year.
Last year WiSA was showing a Sharp prototype, and this year they came back with the finished product – Sharp's Universal Player. This Blu-ray deck offers all of the standard stuff, plus WiSA for audio and a separate wireless solution for video. They demoed it with two of Bang & Olufsen's (B&O) WiSA bookshelf speakers to make the point clear that it is possible to interchange components from different manufactures. An important aspect of this wireless audio solution, compared to most others, is that it promises choice in component selection. The freedom to select best-of-breed is an important feature, especially critical for the enthusiast market.
In another room they showed off a complete solution from B&O, including a TV and complete 5.1 system playing back the same "House of Flying Daggers" scene as last year. The BeoLabs10 TV includes all the hardware necessary for WiSA, but there is also make a separate transmitter that can be used without buying a new display, but would like to add wireless speakers. This addresses one aspect of the problem faced by anyone with existing hardware, but B&O will also be offering discrete receivers that can be used to support traditional wired speakers. When I first thought about how WiSA should approach this market, I had some concern that they did not offer a more traditional wired fronts with wireless sub and surrounds solution. After some more thought, I'm not sure that this is really as much a problem as I first thought. A pure wireless solution offers flexibility in form factor, placement, and upgradability difficult to replicate with any solution that includes audio processing in the transmitter (i.e. what we think of as the "AVR"). No solution can fit 100% of the available use cases, but this gets us close enough to bridge the gap between existing installations and complete system. I think addressing the selling-to-customers-with-existing-hardware problem is one of the major obstacles that WiSA faces. Obviously B&O has addressed it, but it will take OEMs at all levels to recognize this and provide the right set of options for everyone instead of focusing only on selling complete wireless systems.
The first products in the US are pricey, but I also saw a system from AccuSound that will be launching in Australia soon, which should be targeted closer to the other side of the audio market. Given that the much of the variable cost in an audio system is taken up by the DAC and amps used to drive the speakers so it is quite possible for OEMs to build products covering most of the major market segments.
While I would have liked to see more products, especially in the $1000-$5000/system range, it's hard not to be somewhat satisfied with the progress that WiSA made last year. After all, twelve months ago all we had was demo; now we have product. Hopefully, we will see more speakers, "AVR", and players at each of the major price points before the end of the year – if not sooner.