ZOTAC ZBOX Blu-ray AD05 Plus Reviewed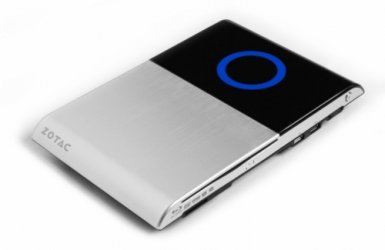 I recently had a Blu-ray player die right in the middle of family movie marathon night, leaving me wishing that my HTPC was equipped to take its place. An HTPC like the ZOTAC ZBOX Blu-ray AD05 Plus would have come in mighty handy. The AD05 is the latest in ZOTAC's line of Blu-ray equipped mini-PCs. The base model is a barebones system equipped with an AMD E-450 with its integrated Radeon HD 6320 GPU, but the plus model is a complete system with 2GB of RAM and a 320GB hard drive. Both versions include a remote control and IR sensor, as well as a VESA mount for installing the system to the back of a TV. Just add your own OS and the result would certainly be better than the replacement Blu-ray player I ended up with.
Starting with the build quality of the ZBOX AD05 Plus we have a unit which feels sturdy in the hands thanks to parts which fit well together, thick rigid plastic and a nice brushed metal finish. The overall design is also nice with the system looking like it would fit into most home theatre environments. It certainly looks like a Blu-ray player more than a PC.