Subscriber Growth Seen Slowing for Netflix, Hulu Plus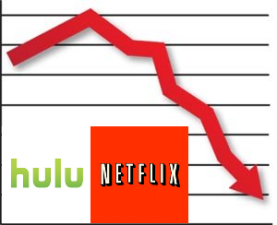 Most conversations regarding cord cutters tend to focus on the impact of cable company revenues as subscribers jump ship for the considerably less expensive option of streaming media services such as Netflix and Hulu Plus. Not everyone sees this trend continuing, in large part because of rises in streaming media subscription rates. The Convergence Consulting Group has issued a report suggesting that rising licensing costs will force companies like Netflix and Hulu to raise their rates, negatively impacting subscriber growth. The research firm points to turmoil that Netflix experienced last year as evidence of the kind of backlash that streaming media services will face in the future. Of course, one point that Convergence Consulting Group may not be taking into consideration is that cable television package rates have not held steady in recent years and are not likely to in the future either. Will the cost of Netflix and Hulu Plus go up faster than the cost of cable television?
In 2011, only 112,000 U.S. citizens signed up for cable TV packages. This is a significant drop from 272,000 who signed up in 2010.
However, Convergence Consulting Group doesn't see this trend lasting. In fact, it expects a decrease in the number of customers signing up for internet streaming services throughout 2012 and 2013 because of rising licensing costs.