GIGABYTE Launches BRIX Mini-PC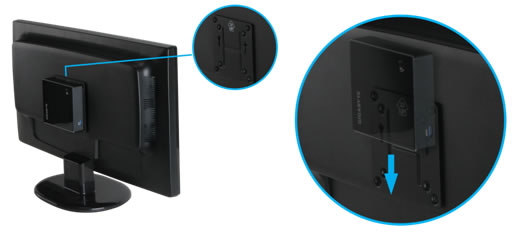 As we march towards more efficient CPUs it is great to see OEMs taking advantage of the inherent capabilities to deliver smaller form factors. We saw it with Intel's NUC, where they provided a very cabable bare-bones HTPC, and now GIGABYTE has come out with something similar. I'm really happy to see more vendors/competition in this space.
Full PR after the click.
Taipei, Taiwan, May 24, 2013- GIGABYTE TECHNOLOGY Co. Ltd., a leading manufacturer of motherboards and graphics cards, is proud to present today the GIGABYTE BRIX, an ultra compact PC, combining an incredibly small and sleek form factor chassis design with a choice of high-performance Intel® Core™ processors, fast SSD storage, integrated Wi-Fi, USB 3.0 plus dual digital display outputs.

"The BRIX lays down a new standard in terms of compact form factor, connectivity and performance, making it suitable for a broad range of applications in the home, office and commercial spaces," commented Henry Kao, Vice President of GIGABYTE Motherboard Business Unit. "The BRIX demonstrates how we can leverage our exceptional R&D and manufacturing prowess to create new and exciting PC products that defy convention."

GIGABYTE BRIX: Ultra Compact Computing 2.0
The BRIX from GIGABYTE is an ultra compact (29.9 x 107.6 x 114.4 mm) and versatile DIY PC kit available with a broad choice of processors covering a range of performance and price points. Redefining the desktop PC in terms of miniaturization with a form factor that sits in the palm of your hand, the BRIX doesn't hold back in terms display and peripheral connectivity, or raw performance, and is ideal for compact HTPC builds, as a standard desktop in the home or office, or in commercial applications such as digital signage.

GIGABYTE designed the BRIX to be smaller and lighter than currently available products, with a stylish glass surface mounted on an anthracite aluminum frame. The BRIX comes complete with a GIGABYTE compact form factor motherboard, Wi-Fi module, VESA mounting bracket and power adapter, requiring only an mSATA SSD, SO-DIMM memory and OS.


Comprehensive Processor Options
The BRIX is available with a choice of four power-efficient, 3rd Generation Intel processors. From a simple internet access point, to a high-end multimedia station, the GIGABYTE BRIX offers great flexibility for a wide range of different usage applications.

| | | | | |
| --- | --- | --- | --- | --- |
| BRIX Model | GB-XM1-3537 | GB-XM11-3337 | GB-XM12-3227 | GB-XM14-1037 |
| Intel Processor | Intel® Core™ i7-3537U | Intel® Core™ i5-3337U | Intel® Core™ i3-3227U | Intel® Celeron™ 1037U |
| Cores | 2 | 2 | 2 | 2 |
| Threads | 4 | 4 | 4 | 2 |
| Clock Frequency | 2 GHz – 3.1GHz | 1.8 GHz – 2.7GHz | 1.9 GHz | 1.8 GHz |
| Smart Cache | 4MB | 3MB | 3MB | 2MB |


Dual Digital Displays
With support for HDMI and DisplayPort, the BRIX can power two displays simultaneously, making it a perfect choice as a high-productivity PC in professional and home environments, or in any number of industrial and commercial multi-display applications.

A Flexible, Compact DIY PC Kit
The BRIX is sold as a DIY PC kit, shipping with a Wi-Fi Mini PCIe module pre-installed, plus a power adapter and cable conforming to local standards. Requiring only SO-DIMM system memory and mSATA SSD, the BRIX gives users the flexibility to independently choose integrated storage and system memory sizes, without the trouble of sourcing components that are not widely available on the retail market.

VESA Support
Bundled with a VESA bracket, the BRIX can easily be mounted behind a monitor or HDTV making it discreetly hidden from view. This offers a simple and elegant way to turn any VESA-compliant display or TV into a full-featured PC or digital signage unit.