Xbox Live Adds Crackle and CinemaNow Apps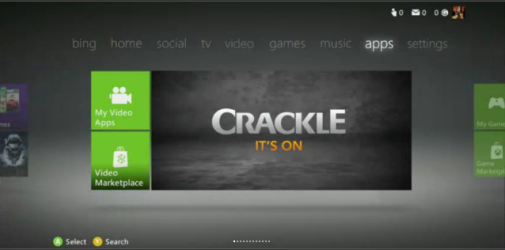 Microsoft has continued their slow trickle of new streaming video apps for Xbox Live with the release of apps for Crackle and CinemaNow. For those not familiar with the two services, Crackle is a free service owned by Sony that offers a variety of streaming movies and TV shows and CinemaNow is a Best Buy-owned streaming rental service. Unsurprisingly, Crackle's limited lineup is dominated by Sony produced material, and not necessarily Sony's freshest stuff at that, but the service has continued to expand its offerings and does offer some hits of yesteryear. CinemaNow offers a wide selection of movies, new and old, but as it is a rental service, there are no freebies here. Rentals typically range from $0.99 for ancient duds in SD to $4.99 for more modern offerings in HD. The list of streaming media apps on the Xbox Live keeps getting longer and longer. I'm going to be mighty disappointed if we don't see these apps making the transition to the Windows 8 start screen as well.
We've spent a lot of time waiting for Microsoft to drop all of the video apps they promised we'd be seeing on Xbox 360 and slowly but surely the list is getting longer. One of the newest additions to the apps marketplace will hook us up with a bunch of free movie rentals while the other gives us access to some not-so free streaming entertainment.