Warpia Looking to Tackle Living Room Video Calling with ConnectHD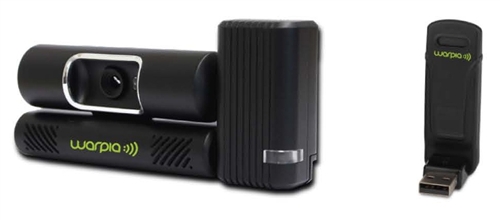 Warpia caught our attention several months ago with the StreamHD SWP120A, a device for wirelessly streaming a PC's video output to a TV. Warpia has another wireless video setup coming soon, the ConnectHD, which aims to get in on the living room video calling market that we have been watching Biscotti hop into. The ConnectHD pairs a camera and microphone with a Wireless USB PC adapter. The camera and mic unit connects to a TV via HDMI. The ConnectHD has approximately a 30 foot range and allows one to use whatever PC messaging software one wishes for 720p video calling. The ConnectHD also supports 1080p wireless media streaming. Warpia's not announcing an availability date yet, but does plan on showing the ConnectHD at CES this year.
This minuscule unit can be placed almost invisibly in your existing living room, HTPC room or conference room. It only needs AC power and an HDMI connection to display the video. All of the rest of the work can be handled behind the curtains by any of your favorite video chat programs like Skype.