Warpia StreamHD SWP120A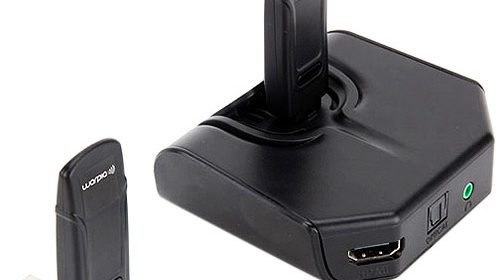 In the past year several companies have avoided the "media player" conversation instead opting to focus their efforts on wirelessly streaming their HDMI signal from their laptop directly to their HD televsisions. What Veebeam and Brite-View have done well, each with their own pros and cons, is now where Warpia is attempting to compete with their StreamHD SWP120A unit. Leveraging your existing system for multi-function usage–as a personal computer and also as part time home theater PC (HTPC) duties–is the proposition the StreamHD offers, and at a cost of just under $140 it is priced directly between the lower priced Veebeam and higher Brite-View.
SPECIFICATIONS
Before getting into the tests and user experience, let's take a peak at the system specs for the Warpia StreamHD SWP120A device.
Audio/Video Base

HDMI Connector
S/PDIF Connector (5.1 surround sound output)
3.5mm audio jack (Stereo)
32-bit True Color support with display resolution of up to 1920 x 1080 (SXGA+)
Up to 1080p resolution
Capable of working in both Mirror Mode and Extended Mode (TV/monitor as a second screen)
48 kHz, 16-bit Stereo via audio jack or HDMI connector
Power supply unit 5VDC

PC and Device Adapters

USB type-A male
Internal antenna
Single LED – Power/traffic

Standards

Wireless USB 1.0, USB-IF certified
Certified WiMedia PHY and MAC
3.168 to 4.752 GHz (WiMedia band group 1)

General

Same room range, up to 30ft
128-bit AES security
Regulation compliant to US, Japan, Europe, Korea
Software drivers: Windows® 7/ Vista™SP2/ XP® SP3
Input voltage: 100-240V, 50/60Hz
Operating temperature range: 0-40 C

CPU & Memory Requirements

Windows based PC with an available USB 2.0 Port

Operating System: Windows XP (32 bit only), Vista (32/64 bit), or Windows 7 (32/64 bit)




Running Windows XP:

For full screen video streaming up to 720P: Intel Core2 DUO 1.8Ghz CPU with 1GB of memory
For full screen video streaming up to 1080p: Intel Core2 DUO 2.4GHz with 2GB of memory.
For Internet browsing, pictures, office use, etc: Intel ATOM 1.6Ghz CPU with 512MB of memory

Running Windows VISTA or 7:

For full screen video streaming up to 720P: Intel Core2 Duo 1.8Ghz with 1GB of memory
For full screen video streaming up to 1080p: Intel Core2 DUO 2.4GHz with 2GB of memory.
For Internet browsing, pictures, office use, etc: Intel Core Solo 1.6Ghz with 1GB of memory

Windows Vista Starter Edition and Windows 7 Starter Edition are not supported as they do not allow multiple displays.
PACKAGING AND HARDWARE
Nothing special (and that's a good thing) to say about the packaging of the Warpia StreamHD SWP120A. It comes in a glossy box with a description of the item, perfect for retail shelves, and includes everything you will need to get fully functional in no time. I'm not exactly sure why the dongle which connects to the TV does not have the USB antenna already connected to it, but installing it there is simple enough. The right angle USB adapter is the one that connects to your computer, and the other connects to the receiver.
An installation CD is of course included and was the latest version that I could find on the website as well. As mentioned in the specifications, the Warpia StreamHD SWP120A will only run on Microsoft Windows operating systems–although a beta is in the works for Apple Mac OSX users.
CONNECTION & OPERATION
The Warpia StreamHD SWP120A can be connected to your system in a number of ways, the simplest being direct HDMI cable for HDMI loop-thru connection. In addition to HDMI, the device also supports a 3.5mm audio out (cable not included) as well as S/PDIF connector (TOSLINK cable included). Unlike the higher priced Brite-View there is no ability to extend the IR signal across.
It connects to its receiver and transmits the signal via Wireless USB and the specs claimed a range of 30 feet as long as you maintain line of sight–a rather odd claim given the unlikely chance you would be 30 feet away but still within line of sight from the receiver. I did do a number of test through a variety of doors, walls and distances and I was still fairly pleased with the quality and performance. From about 15 feet away, with the door closed, the signal was almost gone. However, the same distance with the door open the connection maintained stable. With better results noted the higher the receiver was placed.
Power consumption is very reasonable with the receiver drawing around 3.4 watts of power at all times–there is no standby for the unit. The connection the Warpia StreamHD makes with the computer when tested with Windows 7 functions through Windows Aero and as such it must be enabled. When you install the CD included you are also installing the DisplayLink software which is used to adjust performance and troubleshoot issues. One of the toggles you can select is "Video Mode" which improves video performance but does reduce text quality.
During the installation the software will detect your system specifications and will alert you of your maximum supported resolution if it does not meet the requirements. When you first connect the USB dongle afterwards the screen will refresh several times and then the television should display it appropriately. Scaling is also done via the DisplayLink software and you can adjust accordingly for the varying resolution between your laptop and the television.
I first tested the Warpia StreamHD SWP120A by connecting to my laptop and then tested the distances as I mentioned earlier, while playing a standard 720p video file. Moving the unit around in the same room did not degrade the quality, but doors are not the StreamHD's friend. But this is Missing Remote after all, so I wanted to really test this device to the max for our home theater enthusiasts–so I connected it to my actual HTPC based off of an Intel DH61AG and Intel Core i5-2500 CPU. I connected it to the same AVR as the HTPC via 1080p resolution (1920×1080) which is normally connected to so i would know what to expect.

During setup the only step you need to do is configure the audio output to be the Digital Output from the USB device. Then the file testing came as I ran Windows 7 Media Center in full screen throughout all o these tests. First the bad news–copy protected content such as Blu-rays (and even ripped Blu-rays) will not function through the Warpia StreamHD SWP120A. Even after enabling Aero during playback in both Arcsoft Total Media Theater 5 and Cyberlink PowerDVD 11 neither allowed video to show, only audio would pass through. Based on this knowledge I do not believe that copy-once content from CableCARD would function correctly, but I did not have the files available to test. High definition audio (Dolby TrueHD and DTS Master Audio) which were encoded with MKV video files also did not play, but happily the "core" audio portion does as well such as DTS, Dolby Digital, LPCM and AC3 all played back correctly through my AVR.
All of my video files played properly as well and there was no noticeable lag between the client playback to the television. It's also worth noting, since the Veebeam did not, that the Warpia StreamHD SWP120A does show the mouse cursor on the television during transmission. This is a critical piece to the equation since it means you can have your laptop/system display turned off and still control it exclusively from watching the television.
Controlled exclusively via the Windows Remote Control I was able to browse and control all aspects of Windows 7 Media Center without significant delay. Note that word "significant" is there, as it was definitely NOT flawless. To be fair the 7MC interface is animated and would require a fair amount of bandwidth to broadcast, but it's something to note–things such as moving up menu or guide have approximately one second lag from button press. Even LiveTV was able to be played via a digital tuner in high definition through the device.
It was not all perfect however, although the Warpia StreamHD SWP120A was able to play live and recorded TV (WTV) via 7MC there was some jutter issues when it came to fast action movements. Normal dialog scenes broadcast fine without any lip sync issues, however attempting to watch an episode of "So You Think You Can Dance" proved to be unwatchable due to the jutter. Note that this experience was not present in other video filetypes so is most likely due to bandwidth which 7MC's recording filetype requires due to its high bitrate and lack of compression used. I could not notice any difference in picture quality when playing back either high definition H.264 movies, in both 720p and 1080p resolutions.
CONCLUSION
So where do we stand with our third review of a wireless HDMI device after having personally looked at the lower priced Veebeam HD and Aaron's review of the costlier Brite-View–exactly in the middle. The Warpia StreamHD SWP120A can be found today for around $140, putting it squarely between the two competitors, and that is exactly what I feel it delivers in testing. The performance does not experience the lag and no mouse issue of the Veebeam, but it also does not have the IR and more CE friendly capabilities of the Brite-View, which are fair points to all given where they fit in the consumer space. Whether that makes it an ideal solution for your environment and needs is something I cannot answer for you.
If you have the need, and don't require playback of Blu-ray movies and can live with a bit of judder with your 7MC television content, then the Warpia is a fantastic deal. It played back all other content I threw at it flawlessly and I was able to use it as my full time Media Center for all my other content types.
Given the growing cost reduction in Media Players however one should really evaluate your exact needs prior to purchasing one of these. While the idea is phenomenal remember that using your PC in this manner will mean that the system will be unusable when being used with your television. Unlike this, a Media Player will work via the network and can still play back most if not all of the same filetypes–some even Blu-ray (ripped) compatible. Where the Warpia StreamHD SWP120A thrives is simple–extends your laptop/computer to your television, so if you are a big fan of browser and streaming online content from a variety of sources then it makes a lot more sense than just for video playback.
PROS
Price
Mouse cursor shown
No Lip Sync issues
Passes through DTS, Dolby Digital and other surround sound codecs
Played all non-BD video files
CONS
No Blu-ray support
No HD Audio Support
Sluggish 7MC Interface experience
Jutter on fast action WTV files
Thanks to Warpia for providing the review unit.