Aperion Audio Intimus 4T Tower Speaker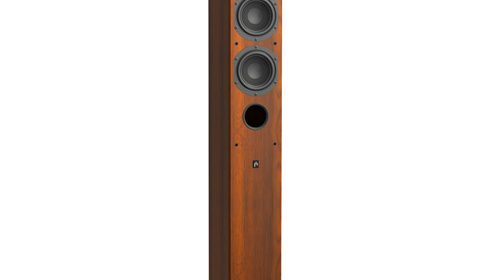 Creating the right audio environment is a critical part of enabling an immersive home theater experience, but is often neglected either due to ignorance or the erroneous assumption that good sound is unattainably expensive. The process of finding the right speakers is made even more difficult with few shops providing an adequate listening environment, let alone one with options in an affordable price range. Speaker manufacturer Aperion Audio has a solution for these issues, offering their 150 watt, $550/pair Intimus 4T tower alongside a no-risk thirty day trial with shipping covered both ways, so they can be tested in the actual environment where they will see use.
The Speakers
Specifications:
| | |
| --- | --- |
| Dimensions: | 34″ H x 5″ W x 7.5″ D (Base: 8.25″ x 8″) |
| Weight: | 19 lbs |
| Construction: | 15mm (0.59") MDF, Ported |
| Tweeter: | 1x 1″ Audiophile-grade Silk-Dome Tweeter |
| Midrange: | 2x 4″ Woven Fiberglass Composite Woofers |
| Woofer: | N/A |
| Frequency Response: | (+/- 3dB) 60Hz -20,000Hz(+/- 6dB) 50Hz -22,000Hz |
| Impedance: | 6 Ω |
| Sensitivity: | 88 dB |
| Recommended Power: | 25 – 150 Watts |
Fans of velvet will love the Aperion Audio Intimus 4T unboxing experience. With each tower arriveing fully enclosed in the material once removed from the box and foam padding which protected it in transit. Having only previously seen the speakers in photos, I was immediately impressed with the quality of the cherry veneer finish (piano black is also available), solid medium density fiberboard (MDF) construction, and overall fit-and-finish of the pair. Calling the Intimus 4T a "tower" is something of a misnomer however, because at 34" high, 5" wide and 7.5" deep they do not command the attention and space in the home theater as most floor-standers (the footprint was actually smaller than the ProMonitor 1000 bookshelves displaced for testing). Some assembly is required to attach the aluminum feet and spike stabilizers; not exactly an effortless process, but one requiring no more than five minutes to get to a fully functional state, which is much less time than any other speaker/stand assembly I have previously encountered. The nineteen pound Intimus 4Ts are well-balanced and sit comfortably on every surface tested after adjusting the leveling spikes; even easily surviving accidental bumps from the three children occupying the same space. Cabinet feel is also excellent, exhibiting no unwanted resonance when subjected to knuckle abuse.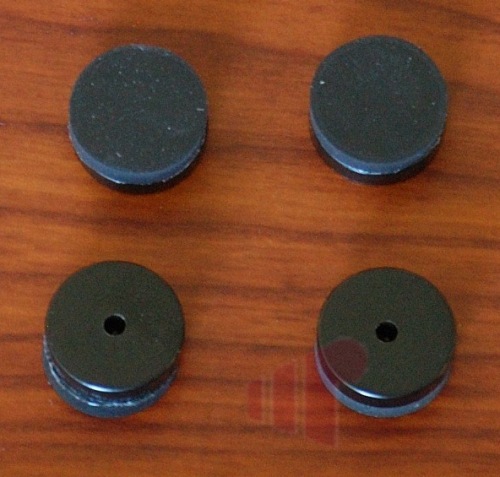 As someone who has spent a significant amount of time living with hardwood floors, it was greatly appreciated that the fancy bag was not the only finer point provided by Aperion Audio – floor-safe isolation mounts for the levelers are also included.
Performance
While the Intimus 4T speakers are small for a floor-standing tower, the same cannot be said for their sound; which is anything but. The speaker pair slotted cleanly into my six speaker Definitive Technologies ProCinema reference environment, taking left/right mains duty from a set of ProMonitor 1000 bookshelf speakers. The Intimus 4Ts immediately impressed with their ability to play nice with others – comforting to anyone intending to upgrade piecemeal. These are the first six Ω speakers I have connected to the Denon AVR-1909 in my home theater, and from what I understand, this rating can be problematic for some audio video receivers (AVR) because it is more taxing on the amplifier. However, no issues were observed, with the AVR able to drive the 4Ts well past comfortable listening levels while maintaining exceptional clarity. With just the speaker pair provided, it was difficult to get a truly holistic view of how the Intimus family performs in all home theater scenarios because most of the weight for television and movies is carried by the center channel (which as an aside, should be upgraded first if music is not the primary use of the system). Audio performance in those scenarios was excellent, but because isolation is impractical for multi-channel audio it seemed logical to lean on music to ascertain the speaker's capabilities.
Breaking out my favorite music player and probing with a variety of samples across a range of genres, I found the Intimus 4Ts to be a more well-rounded speaker than the reference ProMonitors, with a richer low and mid-range in stereo direct mode. When properly toed, the 4T creates a very solid center with a wide "sweet spot". It does give some ground on the high-end however, although it was only noticeable in back-to-back comparisons with material intended to highlight that domain (e.g. Jeff Buckley's "Everybody Here Wants You"). Given the difference in cabinet construction and volume, this result [while somewhat unwelcome :)] was not entirely unexpected. However, they are not perfect, with trade-offs consistent with their size and price range apparent; especially at the low-end where a discrete subwoofer is necessary to extract the full experience from content requiring solid bass (e.g. 50 Cent's "In da Club"). That said, if your tastes do not run that deep (pun intended), the Intimus 4Ts should provide a solid and affordable standalone stereo audio experience in an appropriately sized room.
Conclusion
With great sound and build quality for the money, Aperion Audio's Intimus 4T tower provides an outstanding value. Combining this with a risk-free trial and a ten year warranty, it is difficult to not recommend that anyone considering new loudspeaker mains in a small or mid-sized room take a hard look at this pair. If there is a drawback, it is that the Intimus 4T's size demands sonic trade-offs similar to a bookshelf loudspeaker without the convenience of the other form-factor.
Pro:
Construction
Fit-and-finish
Sound quality
Price
Aperion Audio free shipping, thirty day trial/return policy
Ten year warranty
Con:
Not quite full-range, some compromise at the top and, more notably, low ends
Requires a subwoofer to complete the music experience
Thanks to Aperion Audio for providing the review sample unit.