MPC MediaFile Premium Updated to Version 1.2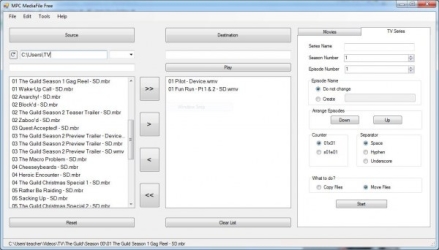 MPC MediaFile Premium, an application for organizing media files and metadata, has been updated to version 1.2. I started using MPC MediaFile a couple of months ago for sorting my disorganized TV episodes into a proper folder structure and have been pretty impressed with it. The new version adds several new features including support for VIDEO_TS folders, native Media Center DVD Library metadata, and metadata conversion for WMC DVD Library, Media Browser, and My Movies. The most interesting new feature is the ability to create RSS feeds populated with your media files. To be honest, I have no idea how I would use an RSS feed in my current HTPC setup, but it is definitely a differentiating feature.
MPC MedaiFile is a tool for organizing your movie and TV series collection. You can automatically create a folder structures, rename files and have them move to the desired location and today version 1.2 has been released.