VIA Mainboards Support Android Starting with EITX-3002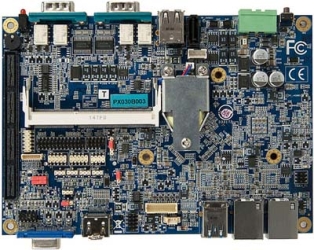 Intel and Google got together a few months ago to announce that they were working together to optimize Android support for the x86 architecture, but Intel's plans were for releases to begin in 2012. In the meantime, VIA is announcing that they too are stepping up support for Android on x86 starting with the EITX-3002. The EITX-3002 is aimed at embedded systems, so we probably aren't going to see DIYers rushing to roll their own Android-based HTPCs, but it is an interesting first step. VIA is stating that all of their future mainboards will include Android support. Given Android's mobile roots and rich collection of media-centric apps, VIA's low-power systems could be a fine complement to the OS.
The mainboard is aimed at multiple embedded applications including in-car entertainment and digital signage. The processor on the board is a 1.2GHz Nano X2 or a 1GHz Eden X2. The small mainboard also has a VIA VX900H media system processor to support HD video up to 1080p resolution in multiple formats.